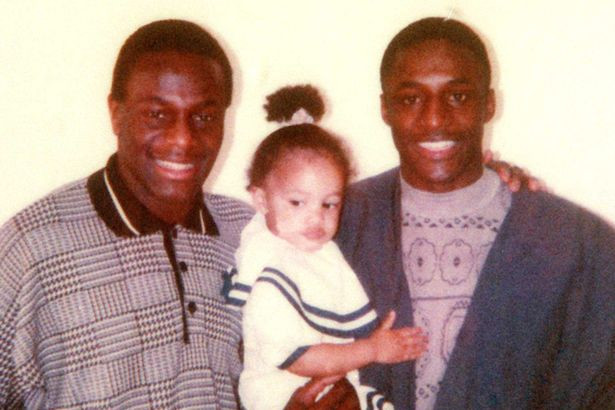 John Fashanu has revealed how that he tried to pay his gay brother Justin £75k to keep quiet about his sexuality. Justin Fashanu was the first British football star to come out as gay. Tragically, he took his own life, as he struggled to find acceptance after coming out.
In his first in-depth interview about his brother since his suicide in 1998, John, a devout Christian, said: "I begged him, I threatened him, I did everything I could possibly do to try and stop him coming out. I gave him the money because I didn't want the embarrassment for me or my family. Had he come out now, it would be a different ball game. There wouldn't be an issue, but there was then. Things are different now. Now he'd be hailed a hero," he explained.
In a newspaper interview in 1990, Justin claimed to have had an affair with a married Tory MP he met in a gay bar. Describing the moment his brother revealed he was gay, John, 53, said: "I'll never forget when Justin first told me. He called me in the evening time and said to me: 'I'm gay'. Then he said to me: 'I'm planning to go to a newspaper'. I said to him: 'Oh heavens forbid... oh my God. We don't need that. You're mad'.
"He promised when I gave him the money he would not go out and say that. Two days later... bang... headlines in a newspaper. I looked like a sucker. For me and my family it was like Hiroshima or Nagasaki on our lives. It knocked us dead, it was a total shock. People might not like it, but I was trying to protect my family," he said.
"You've got to remember the public's perception of homosexuality at that time was that it was an abomination . It was taboo. Street boys were beating up gays in nightclubs."
In the interview John describes the effect of his brother's decision to come out on his family. "I give him credit for having the courage to come out and say it. But it caused a lot of confusion and animosity towards him, me, and my family.
"During matches, 30, 40, sometimes 45,000 supporters sang at me: 'You're big... you're black... your a*** is up for grabs... Fashanu... Fashanu'. As a result of him saying what he said, my mother died because of the stress. She actually died a year later on the day of his birthday. She was already old, very fragile and suffering cancer. Then to be told her second eldest son was a homosexual was too much."
John spoke of his ignorance and his regret at his reaction. "I've never spoken about these things before because I was stamped a homophobe. But things have changed and I make it very clear: I was wrong. It was ignorance on my behalf.
"I didn't understand him. I was trying to protect my family and I was worried about the effect on my career. In the process I lost my brother and I am very sad about that. He committed suicide because he was so distraught the world would not accept a black man who was homosexual.
"I couldn't understand it and I couldn't accept it and so whatever relationship we had before was killed. Previous to that, we had been very close, but it just shattered everything. I didn't speak to him again. There's a lot of sadness and regrets."
Daily Mirror reports that John has urged fans not to react as he did when the identities of the two gay premiership footballers is revealed. "If these young men feel it is the right time to come out and announce they are homosexual, please don't anybody victimise them. Please be careful with words, don't let it lead to the destruction of two men in their prime. I didn't have that wisdom 20 years ago and it led to the destruction of my late brother Justin.
"We must accept them. I beg everybody not to make the same mistakes I made. Give them as much understanding as possible," he said.
John credits his TV presenter daughter Amal, 27, for helping him to change. She presented a BBC documentary about gay footballers in 2012.
"My daughter Amal is a very strong activist for gay rights," said John, who now lives in Nigeria, where homosexuality is still illegal. She has helped me a lot to understand a lot more about another way of life, which homosexuality is. I love her and I am very proud of the way she speaks about her uncle."
Justin Fashanu was hailed as a rising star in football after Brian Clough paid a £1million transfer fee – a record for a black player – on the England under-21 international to take him to Nottingham Forest. However , he failed to live up to the high expectations of him.
An England international and another Premier League football player are reportedly on the verge of coming out and declaring they are gay. They would become the first players to do so while still playing in the top flight of English football.
The news, reported in The Mirror newspaper, was welcomed by the lesbian, gay, bisexual and transgender (LGBT) advocacy charity, Stonewall. "One way of creating change is to have more visible lesbian, gay, bi and trans role models, and so it would send a powerful and important message if we were to see two Premier League players come out," a spokesperson told IBTimes UK.
For confidential support call the Samaritans in the UK on 08457 90 90 90, visit a local Samaritans branch or click here for details.