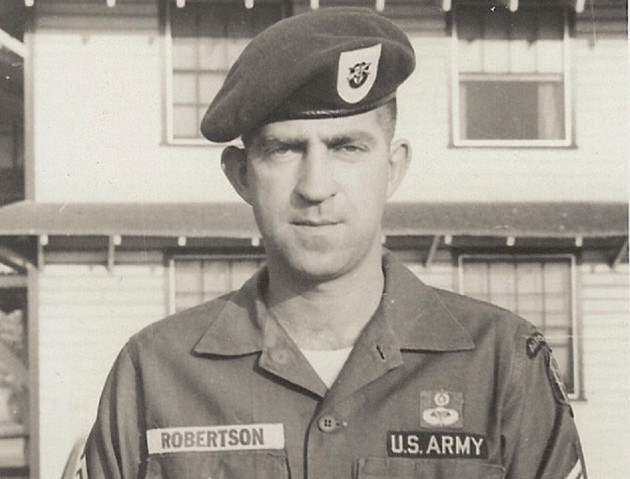 A US veteran who was believed to have been killed in action during the Vietnam War is still living in the southeast Asian country, unaware of his true identity, a documentary has claimed.
Unclaimed, a documentary by Emmy-award winning Canadian filmmaker Michael Jorgenson, claims an old man living in a remote Vietnamese village is actually former Green Beret, Sgt John Hartley Robertson, who died 44-year ago, according to military records.
Robertson left a wife and two children when his helicopter was shot down during a classified special mission over Laos in 1968.
His body was never found and his name was etched alongside those of 60,000 other fallen soldiers on the Vietnam memorial in Washington.
His family maintained he could have survived the crash and said they had documents proving that Robertson had been held in a Vietcong prison. It was not until Vietnam veteran Tom Faunce heard reports about a US soldier living in Vietnam during a humanitarian mission in southeast Asia in 2008.
Faunce teamed up with Jorgenson to track him down. They finally found a 76-year-old man named Dan Tan Ngoc, a Westerner who could not speak English.
Through an interpreter, Dan told the pair how his helicopter had been shot down and he had been captured by the North Vietnamese.
"They locked me up, high in the forest, in a cage," he said. "I was in and out of consciousness from torture and starvation. The North Vietnamese soldier hit me on the head with a stick, shouting, 'American!'
"Then he would hit me even harder; I thought I would die. I never said anything, though they beat and tortured me."
He said he managed to escape after four years and was found wounded in a field by a woman who nursed him. He married her and took her late husband's name.
Robertson/Tan Ngoc could not remember his birthday and his American children's names but could have been suffering from dementia and memory impairments caused by head injuries sustained in the crash.
In the film, he is reunited with a man he trained with in the 60s and his 80-year-old sister, Jean Robertson Holly. Both claim to have recognised his Robertson on sight.