John Kerry Arrives in Egypt with Tough Questions for New Regime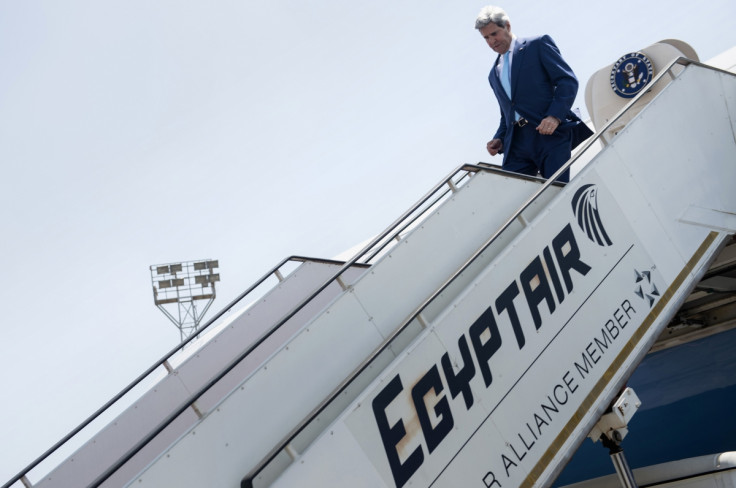 Just 24 hours after an Egyptian court upheld death sentences passed on the leader of the Muslim Brotherhood Mohamed Badie and nearly 200 of his supporters, US Secretary of State John Kerry has arrived in the country. During his visit Kerry is expected to discuss a number of thorny issues with the new regime including Iraq, Syria and Egypt's recent human rights record.
Last July, Egypt's democratically elected Islamist President Mohammed Morsi was deposed by coup after governing for a year and former army chief Abdel Fattah al-Sisi took charge. The US froze some of its annual assistance to the Egyptian military following the coup but has now unfrozen some of that aid. Kerry is the most senior US official to visit since al-Sisi's inauguration.
On Saturday an Egyptian judge upheld the death sentences against Badie and 182 of his supporters for the attack on a police station in which an officer died. A State Department official travelling with Kerry said he is concerned about the death sentences as well as the imprisonment of activists and journalists.
On Monday a verdict is expected in the trial of three Al-Jazeera journalists, Peter Greste, Baher Mohammed and Mohammed Fahmy, who were arrested on 29 December and charged with reporting news "damaging to national security". Former hostage Terry Waite and BBC journalist Alan Johnston, held in Gaza for 114 days in 2007, have now joined the worldwide campaign to free the men.
Another Al-Jazeera journalist, Abdullah Elshamy, was freed on medical grounds this week after being held without charge since August 2013. He is said to have been on hunger strike for five months. On his release he said: "I call on everyone to remember my colleagues Peter, Mohammed and Baher, and that they soon will be released and reunited with their families."
Kerry will also meet Arab League Secretary General Nabil el-Araby in Cairo. State Department spokeswoman Jen Psaki said: "The secretary will discuss a variety of issues covering our bilateral relationship as well as regional issues, including Iraq, Syria, Libya, Israeli-Palestinian relations, and the extremist and terror threats we all face."
© Copyright IBTimes 2023. All rights reserved.