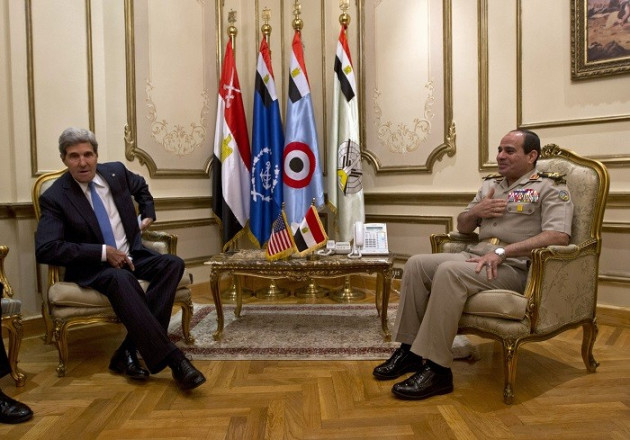 US Secretary of State John Kerry has started his tour of the Middle East with a visit to Egypt amid rising tension between Washington and Cairo.
The visit, which is expected to last only a few hours, is the first time Kerry has returned to Egypt since the Egyptian military's overthrow of former president Mohamed Morsi.
Kerry's visit was kept secret by US officials until he landed. He has met Egypt's foreign minister Nabil Fahmy and defence minister General Abdel Fattah el-Sisi, and is also expected to attend meetings with the interim president Adly Mansour, as well as civic leaders.
Speaking at a joint press conference, Kerry said the US is committed to working with Egypt's rulers and played down Washington's recent suspension of $1.5bn (£940m) in annual aid to Egypt.
"We are committed to work and we will continue our cooperation with the interim government," he said.
Kerry's Egyptian counterpart Fahmy, who was also present at the press conference, said that although US-Egyptian relations had recently been strained, the US Secretary of State's comments showed positive signs.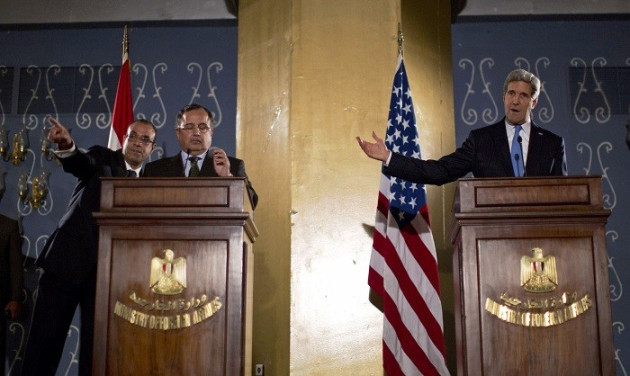 Kerry also used the press conference to call for "inclusive, free and fair elections". He was last in Egypt in March, when he urged Morsi's Islamist government to introduce sweeping economic reforms and encourage political inclusiveness.
Underlying discontent with Morsi's Muslim Brotherhood-backed government peaked when Egypt's all-powerful military ousted him on 3 July and established an interim government.
The US has stopped short of declaring the military takeover a coup but has suspended deliveries of fighter aircraft, tanks, helicopters and missiles, as well as $260m in cash aid to Egypt - a move that has angered army supporters.
Kerry's visit to Egypt comes a day before Morsi is due to stand trial on charges of inciting the killing of around a dozen protesters outside the presidential palace in December 2012, when public outrage at a decree expanding his powers bubbled over.
On Friday, several hundred pro-Morsi supporters protested in a number of cities across Egypt, with seven people injured in Alexandria following clashes with residents.
The next stop on Kerry's nine-day tour is Saudi Arabia's capital Riyadh, after which he will visit other key Middle Eastern countries including Israel, Jordan, Morocco and Algeria.