US Secretary of State John Kerry has expressed concerns over the current political and economic turmoil in Venezuela as he met the Opec nation's President Nicolas Maduro on Monday (26 September).
It was the first official meeting between the two since Kerry took charge. They met in Cartagena in Colombia, on the sidelines of a ceremony held for the signing of a peace agreement between Colombia and Farc rebels to end that country's civil war.
Kerry said he was extremely worried about tensions in Caracas as Maduro's recall referendum is reported to be getting delayed.
"We're very, very concerned for the people of Venezuela, for the level of conflict, starvation, lack of medicine," Kerry told reporters before his meeting with Maduro. "The humanitarian situation is of enormous concern," the Associated Press quoted him as saying.
John Kirby, US State Department's spokesman said during his weekly briefing that Kerry highlighted how millions of Venezuelans were affected because of the country's political and economic challenges. He urged Maduro to "work constructively with opposition leaders to address these challenges", Kirby said.
"Everybody knows we're working toward this recall. It's been delayed. That is problematic," Reuters quoted Kerry as saying. "And we need to find a way forward that can provide a consensus that provides relief to a nation under siege.
"We're not looking for conflict. We're looking for a solution here that works for the people of Venezuela writ broadly," Kerry added.
Maduro's opponents have been demanding a recall vote to determine whether Venezuelans want to cut short the president's term before it expires in 2019. He has been blamed for the chaos in the country, which is facing over 700% inflation leading to severe shortages of food and medical supplies.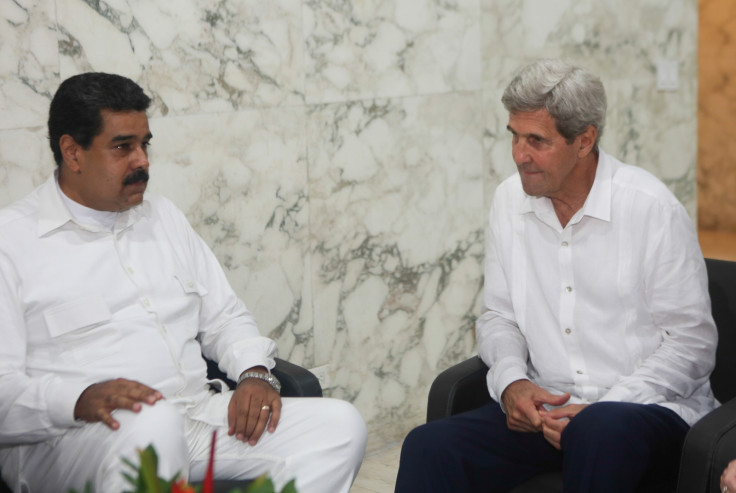 Maduro has maintained that his country has become a victim of an "economic war" for which he blamed Washington. Both the countries have been at loggerheads since the rule of Maduro's predecessor and mentor, late president Hugo Chavez. Venezuela and the US frequently expelled each other's diplomats several years ago under Chavez, and till date do not have an ambassador to represent each other in either of the countries.
The socialist country's opposition has called for a nationwide protest on 12 October to push harder for a referendum to be held this year itself. But the election board has imposed restrictions in a bid to ensure conditions for the recall vote, which would postpone the exercise to 2017.