While facing the worst economic and humanitarian crisis in its history, Venezuela seems to have found a new cost-effective way of conducting funerals — by opting for cardboard coffins.
The new "bio-coffins" are becoming a viable option for those who cannot afford the traditional ones due to skyrocketing prices of wood. The country is also facing acute shortage of brass caskets, which has also opened the door for cardboard coffins.
Entrepreneurs Alejandro Blanchard and Elio Angulo started making the biodegradable coffins three years ago. As the oil-rich country faces an economic crisis with triple-digit inflation, selling bio-coffins seems to have come at the right time for the two Venezuelans who said their business is looking promising.
They have offered their goods to funeral homes in the country's central city of Valencia, which reportedly has one of the world's highest murder rates.
"Death impoverishes the masses ... and the bio-coffin is a solution for this crisis Venezuela is suffering," Blanchard told Reuters.
The cost of a wooden coffin is estimated to be around Venezuelan bolivars 280,000 (£21,422, $28,141), which is equal to what a person earns in one year at minimum wages in the country. Bio coffins come at a price roughly four times lower.
They are made of recycled ridged fibreboard and can be assembled in less than 10 minutes. Although light in weight, one bio-coffin can apparently hold up to 230kg (500lb).
Three hundred bio-coffins can be made from the same number of trees required to make a single wooden coffin, the news agency reported. It added that these biodegradable coffins require only half the amount of fuel during cremation.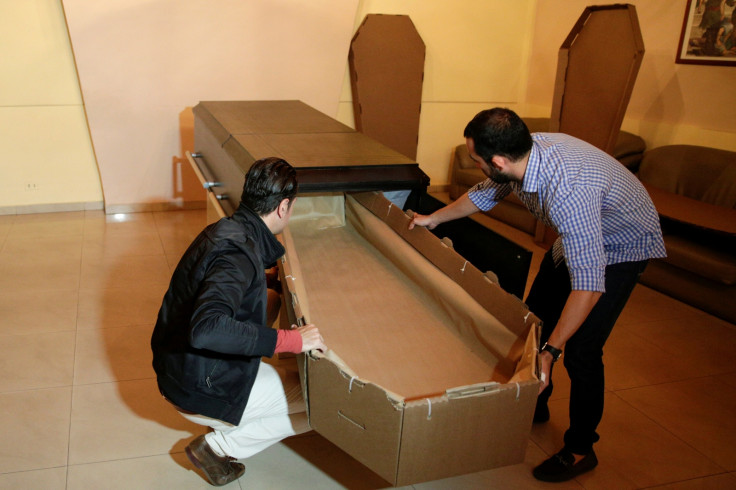 Miguel Salazar, the president of a funeral home network in central Venezuela, said: "The bio-coffin can reduce funeral costs by around 80 percent."
In the face of shortages, the coffin is reported to be slowing gaining popularity in Venezuela, while they are thought to have already set a trend in the US and Europe. The entrepreneurs said they have received orders from Columbia, Ecuador and Peru.
Blanchard said he hopes to set ecological awareness too through his business. "When we conserve the environment, we help preserve life: the living are the most valuable, not the dead," he said.