US Secretary of State John Kerry will meet Russian President Vladimir Putin in Sochi, Russia, on 12 May to discuss Ukraine and other bilateral issues, Washington said on Monday.
Relations between Russia and the West are at their lowest ebb since the end of the Cold War because of Moscow's March 2014 annexation of Crimea from Ukraine and its backing for pro-Russian rebels in eastern Ukraine. The West has imposed economic sanctions on Russia, triggering retaliatory measures by Moscow. Russia denies the West's claims.
The State Department announced the talks and indirectly alluded to the disagreements, saying the trip aimed "to maintain direct lines of communication with senior Russian officials and to ensure US views are clearly conveyed".
The two sides plan to discuss Syria, where they disagree on how to end the civil war engulfing Syrian President Bashar al-Assad, and Iran, where they are seeking an agreement to curb Tehran's nuclear programme by June 30, the State Department said.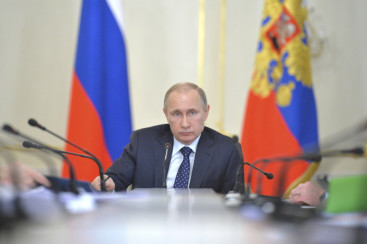 The Russian foreign ministry also announced Kerry's visit to the Black Sea resort but said nothing about his meeting Putin, saying he would see Russian Foreign Minister Sergei Lavrov. The ministry also blamed Washington for many global problems.
In a sign of Western displeasure over Ukraine, the leaders of the United States, Germany, and France skipped a military parade in Moscow on Saturday 9 May marking the 70th anniversary of victory over Nazi Germany.
"Russia-US relations are undergoing difficult times caused by Washington's purposeful unfriendly actions," the Russian foreign ministry said.
"Groundlessly making Russia responsible for the Ukraine crisis which was largely triggered by the United States itself, in 2014... Barack Obama's administration chose a path to cut back bilateral ties, proclaimed policy towards 'isolating' our country at the international scene and demanded support to its confrontational steps from countries who traditionally follow Washington's track," the Russian foreign ministry added.