The widow of former Beatle John Lennon has posted a picture of his blood-stained glasses on her Twitter account in a bid to highlight the need for stricter gun laws in the United States.
Yoko Ono has nearly 3.7 million Twitter followers and put up the picture yesterday on what would have been the couple's 44<sup>th wedding anniversary, along with messages calling for an end to gun violence.
"Over 1,057,000 people have been killed by guns in the USA since John Lennon was shot and killed on 8 Dec 1980," said the 80-year-old Japanese artist.
"31,537 people are killed by guns in the USA every year. We are turning this beautiful country into a war zone.
"Together, let's bring back America, the green land of peace.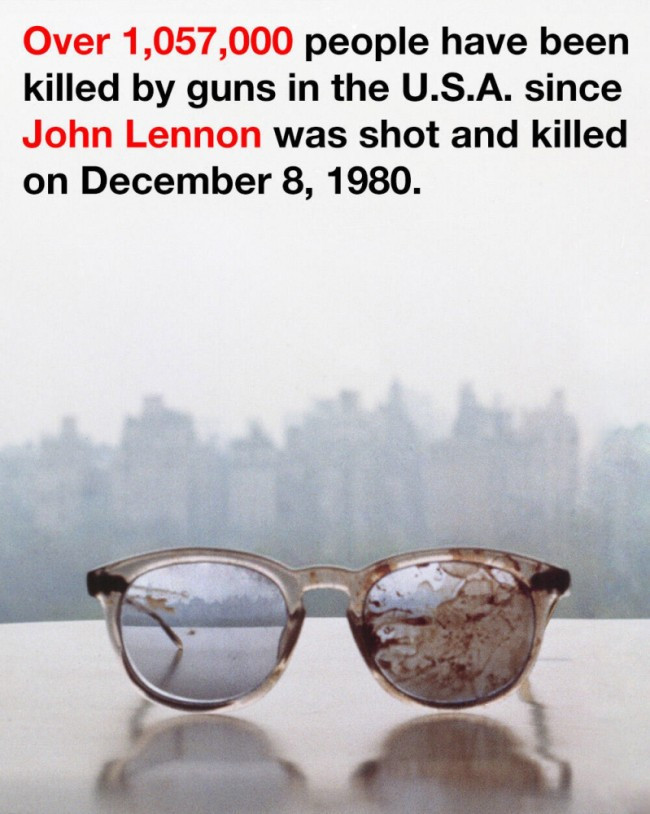 "The death of a loved one is a hollowing experience. After 33 years our son Sean and I still miss him. Yoko Ono Lennon."
The former Beatle was murdered outside the couple's New York apartment in 1980.
Lennon was 40 when he was shot four times in the back by Mark Chapman, who had asked for his autograph only hours before he laid in wait and killed him.
Changing attitudes
President Barack Obama promised gun control measures after a massacre at Sandy Hook elementary school in Newtown, Connecticut, which left 20 children and six adults dead.
The proposed federal ban on assault weapons has faltered after lobbying by the influential National Rifle Association. However, in some states, views on gun control are slowly changing.
According to BBC News, Colorado has tightened its gun laws eight months after a massacre at a cinema in one of the state's principal cities, Aurora, left 12 people dead.
Relatives of the victims saw Governor John Hickenlooper sign the state's new gun control bills. Under the new law which takes effect from July, online gun sales and private transactions will be subject to background checks.
In January, New York became the second state to pass gun control measures, making it illegal to own a magazine with more than seven rounds of ammunition.
Yoko Ono previously used the controversial image of her husband's trademark glasses on the cover of her 1981 album, Season of Glass.