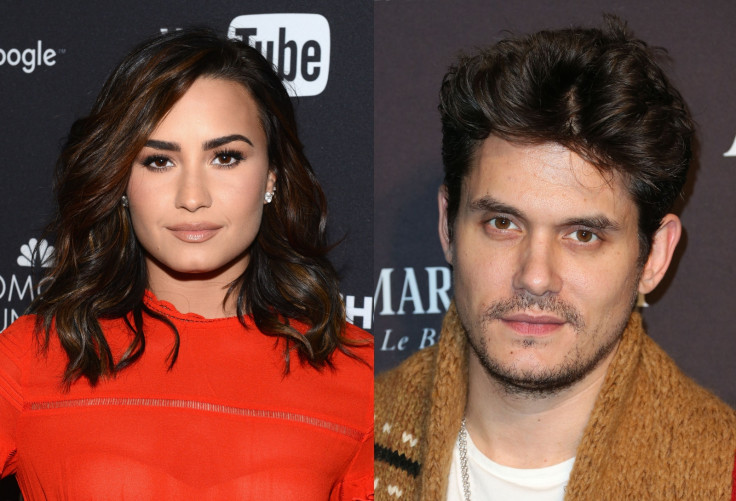 John Mayer and Demi Lovato sparked romance rumours on Saturday (22 October) after the pair was spotted getting cozy with each other at Catch LA. If rumours are to be believed, the singer duo arrived at the West Hollywood hotspot separately but once inside the rooftop restaurant, Mayer and Lovato flaunted adorable PDA.
"John had his arm around Demi and was whispering sweet nothings into her ear," an eyewitness told Us Weekly shedding light on the blossoming romance between the alleged new couple. "She was into it. They weren't making out or anything, but she was giggling the whole time," the source added.
Mayer and Lovato also "chatted it up for over an hour," as the Your Body Is A Wonderland singer gushed about the songstress that she "has one of the greatest voices," according to the report.
However, this isn't the first time that the singing duo has made headlines or gushed about each other in the public. Previously, the 39-year-old guitarist took to the social media to praise Lovato for her singing prowess.
He tweeted, "I have 'La La Land' by @ddlovato stuck in my head. Actually, it's not stuck. I'm choosing to sing it. B section is sophisticated."
To which, the Disney alum responded saying, "That is quite possibly the best compliment I've received in this business. Thank you so, so much!"
Within months of this adorable Twitter conversation, Lovato and Mayer went on to collaborate on World Of Chances for her album Here We Go Again. Explaining the circumstances of how the duo came together to work on the song, Lovato later told MTV News, "I guess he had heard I was a huge fan, and he sent me a letter. Then we ended up writing together. And it was really great 'cause he actually reached out to me, and it was like a dream come true."
Both the stars come with their history of dating A-listers. While Mayer has been linked with Katy Perry, Jessica Simpson and Taylor Swift in the past, the Let It Go hitmaker was reported to have recently called it quits on her relationship with Wilmer Valderrama.