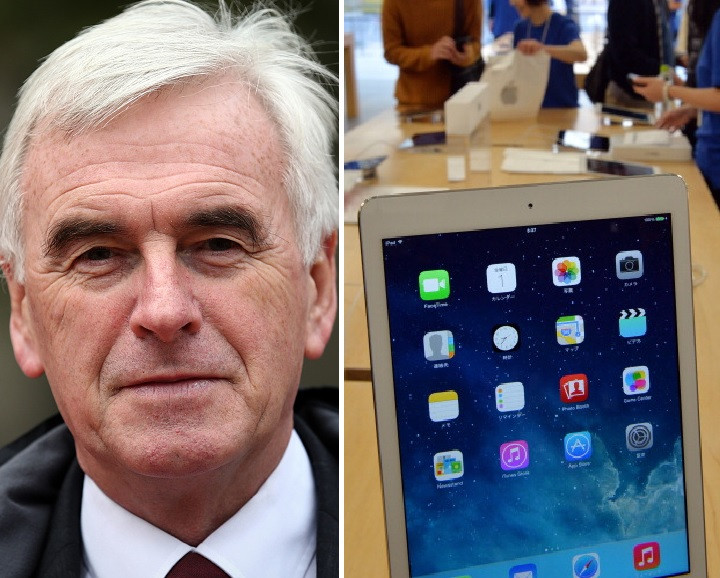 Labour shadow chancellor John McDonnell has turned to US technology giant Apple to help him communicate Labour's latest economic policies. The left-winger described his business plans as "socialism, but socialism with an iPad", ahead of a speech at the Imperial College Incubator in London.
McDonnell, a close ally of Jeremy Corbyn, attacked Chancellor George Osborne ahead of the Autumn Statement on 25 November for not supporting "real wealth creation". He argued that the UK needed to "exploit" the opportunities being opened up in the technology sector to protect the world of work.
"Technological change, and the unfettered free market, are tearing up the old work contract. Labour, instead, will offer a new contract for a new workforce," he said. "Security of income against uncertainty. The same rights and protections extended to all those at work. This is why the fight over tax credits matters so much."
We need a new economy. It's socialism, but socialism with an iPad https://t.co/0ghDhZxUNk #neweconomy pic.twitter.com/mFdJGreDkZ

— John McDonnell MP (@johnmcdonnellMP) November 20, 2015
McDonnell also pledged that a Labour government would tackle the so called "skills shortage", where employers struggle to find appropriately trained workers, as a priority.
"Further Education colleges, a vital lynchpin of the education system, are threatened with swingeing cuts," the shadow chancellor added. "If every person is to have the opportunity to share in the prosperity that the new economy can offer, every person must have the opportunity to learn and develop."
The comments come as McDonnell faces criticism after he reportedly signed a letter from the Socialist Campaign for a Labour Victory group calling for MI5 to be disbanded. But despite a photograph emerging of the shadow chancellor holding the list of "demands", a spokesman for McDonnell told The Sun: "This is the first time John has ever seen this letter and certainly never signed it."