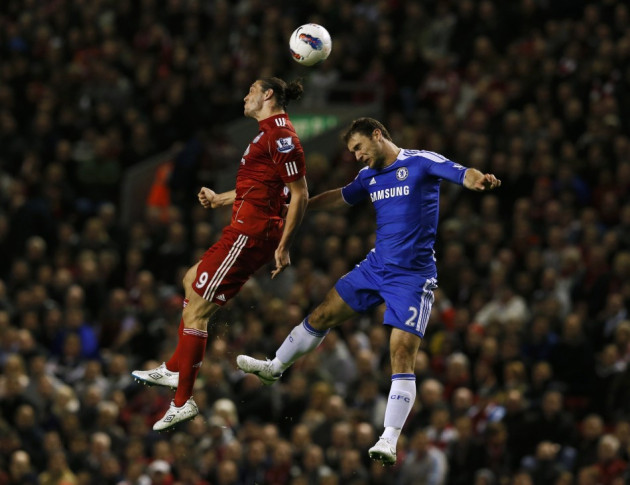 Glen Johnson believes Andy Carroll has played himself into contention for England's Euro 2012 squad after the Liverpool striker's impressive performances in the last week.
Carroll has struggled to hold down a place in Kenny Dalglish's side all season but emerged from a nine-game goal drought to score three times in his last five appearances.
He initiated a Liverpool comeback when he appeared as a second half substitute against Chelsea in the FA Cup final on Saturday and he was a constant threat throughout his team's 4-1 win over the same opponents on Tuesday night.
Johnson has said John Terry was "petrified" of Carroll throughout the match after he set up Daniel Agger's goal and earned a penalty that Stewart Downing failed to convert. Johnson said: "I definitely think Andy has put himself in contention for the England squad. In the last few weeks, he has been fantastic. He is unplayable.
"Chelsea have two big centre-halves and he just threw them around. You could see John Terry was petrified at times. Andy looks like he is quicker and is working a lot harder. He is a big lump but he's good on the ball and works very hard. He will scare a lot of defenders."
And with Roy Hodgson set to announce his Euro 2012 squad on 16 May, Johnson believes the Liverpool striker has forced his way into contention with his recent form. "You can't put a price on confidence," Johnson said. "Obviously, there wasn't too much pressure on the lads on Tuesday, but we were able to go out and express ourselves and it did look like we were playing with more confidence."
Carroll, who has scored nine goals this season, including four in the league, won the last of his three England caps against Wales in September. And with Wayne Rooney suspended for the opening two games and Darren Bent struggling for fitness, he will have undoubtedly caught the attention of the new England boss.
"I don't want the season to end," Carroll told the Liverpool Echo. "It would be nice to go to the Euros, but I have one more game to go and we'll see what happens after that.
"You can see that I'm more confident now when I step out on to the pitch, and I feel I have shown that in the last couple of games.
"I'm enjoying my football now. As you can see from my performances, I've been enjoying it for a while, training and everything. I've always been confident of playing well. I just needed a little bit of a run. I've been doing well in training.
"I haven't had the greatest season but the manager has stuck by me and defended me. He has encouraged me a lot and has a lot of belief in me. I'm confident of doing well all the time. It's not just the last two games I have played well. To be honest, I feel I've done well in other games."