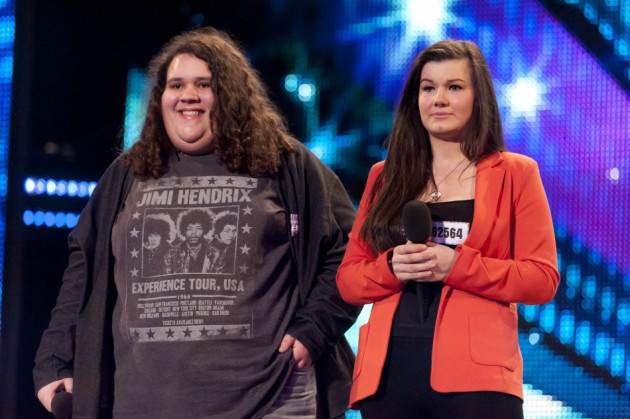 Earlier this year, operatic teen duo Jonathan Antoine and Charlotte Jaconelli lost out in the final of Britain's Got Talent to Ashleigh and Pudsey.
Days after the final, the pair from Essex were reported to have signed a £1 million record deal with Simon Cowell's record label Syco.
Their album, Together, was released on 24 September and reached the top ten of the UK Album chart.
Now, a new documentary reveals what happened behind the scenes following the talent competition. The film reveals how Jonathan and Charlotte, both 17, were paired together as singing partners.
Throughout the show, Jonathan and Charlotte are shown touring Italy and France, finishing their education and receiving guidance from Luciano Pavarotti's vocal coach, Leone Magiera.
It also delves into Jonathan's struggle with depression after being bullied at school.
Simon Cowell recently admitted he was wrong to suggest the pair should split up. In their first audition, TV's Mr Nasty said Jonathan should go it alone and that the pair would not make it. According to the Mirror, he said: "I was wrong to say you'd never be stars."
Charlotte added: "Simon apologised to me for what he said to me in our first audition.
"He said, 'It's really nice to see you even though I was so mean to you before. You've improved so much since the first audition and I love you as a duo now'."
The documentary will also look at how the pair are coping with their new lifestyle; on photo-shoots, promoting their album and attending a red carpet event at the Royal Albert Hall.
On 31 October, Jonathan and Charlotte announced that they will be doing a five-date tour of the UK in June next year. They will be visiting Glasgow, Bournemouth, Southend, Birmingham and London.
Writing on his Facebook page yesterday, Jonathan also said they will be visiting Wales as part of the tour. He said: "I didn't know about the added date until a few hours ago but indeed there is another date that I think is going to be on sale in the morning at 9am.
"I'm glad we can also now sing in Wales!"
The documentary, Jonathan & Charlotte, is on ITV at 9pm Friday November 2.