Jose Mourinho pleads innocence over handshake controversy with Arsene Wenger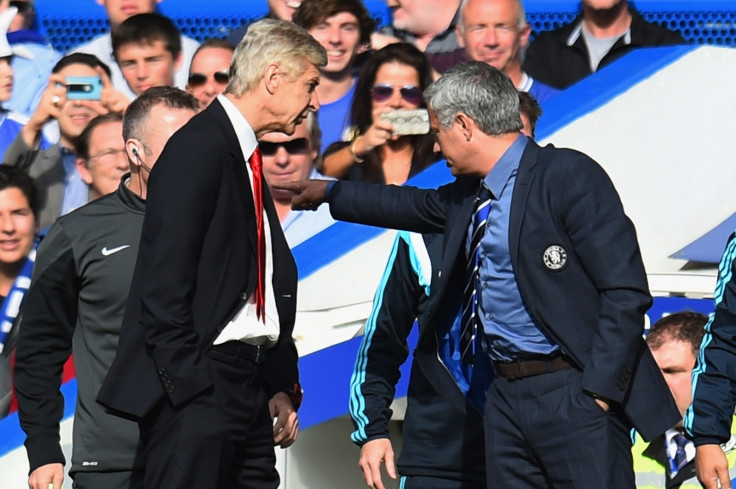 Jose Mourinho and Arsene Wenger were embroiled in yet another controversy as the Chelsea man accused the Frenchman of snubbing his handshake after the game.
Mourinho was standing at the bottom of the Wembley steps, from where the Arsenal team were coming down after collecting their winners' medals, shaking everyone's hands as Wenger decided to take a detour and ignore Mourinho's hand.
The Frenchman had also made his way into the dressing room after the final whistle, without giving his opposite number the opportunity for any pleasantries.
This is the first time that Wenger has beaten Mourinho in 14 attempts, losing seven and drawing six of the rest. The Gunners will be hoping that having the hoodoo off their back will give them a major boost ahead of the start of their Premier League campaign on 9 August, when they take on West Ham at the Emirates.
The Chelsea manager was not happy with the snub and reiterated that he was not at fault for how the thing panned out after the game, and he was doing what a manager of his stature should following a defeat.
"I was doing what I think the status of my club and my status as a manager have to do, which is be there for the winners, to wait for them," said Mourinho, as quoted by the Daily Mail.
"I was at a point that you only miss me if you want to miss me and every Arsenal player came in my direction which was the easiest thing to do because I was just there.
"If other people didn't come in my direction that is not a problem, not a story and not the end of the world.
"I did my job, the job that my club deserves me to do and the status as a manager when I lose any trophy.
"Would I have shaken his hand? I don't need to answer that. You see the images and see where I am - so to ask is not a fair question," he added.
© Copyright IBTimes 2023. All rights reserved.