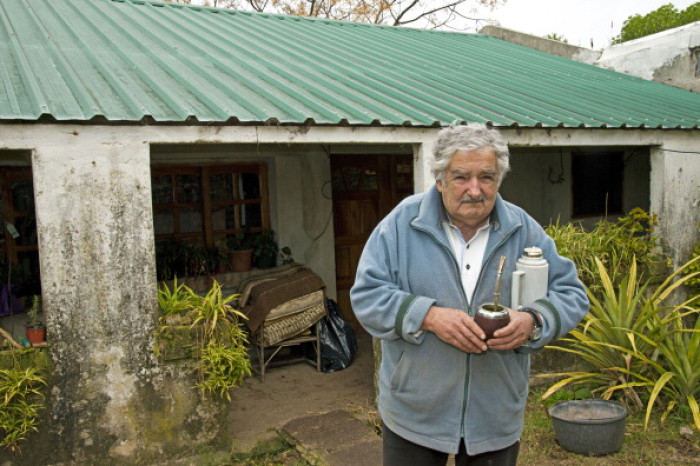 And so the Luis Suarez saga rumbles on. A week after Uruguay's most famous sportsman made global headlines by sinking his teeth into a rival player in the middle of a crucial World Cup match, his compatriots continue to fan the flames with remarks of an equally barmy nature.
Now Uruguay's most powerful person, president Jose Mujica, has chosen to wade into the debate around Suarez, describing football's governing body Fifa as "old sons of bitches" before extravagantly covering his mouth in the manner of British Carry On legend Kenneth Williams. Not quite the sort of remark you can imagine David Cameron making.
But then Mujica is about as far removed from Cameron as it's possible for a political leader to be. He's been shot almost as many times as 50 Cent, and now he lives in a ramshackle farmhouse guarded by a three-legged dog, regularly giving interviews in faded tracksuit tops. He's every bit as much of a maverick as Suarez - although thankfully he's never been caught biting one of his political rivals.
Criminal
A former guerilla, Mujica, who is known to his supporters as Pepe, was leader of the Tupamaros, a violent splinter group inspired by the Cuban Revolution that was responsible for armed robberies and kidnappings.
The 73-year-old spent 14 years in prison from 1972 for fighting the state, being shot six times by police in the process and spending more than a decade in solitary confinement.
He was eventually released in 1985 and went about rebuilding first his career and later his life.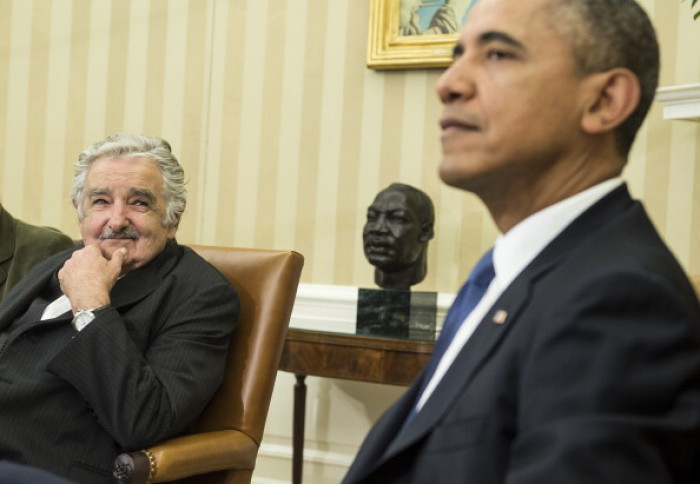 Politics
In 1994 he was elected a deputy, famously arriving at Parliament on a vesper scooter, and under the left wing President Tabaré Vázquez, Mujica was in 2005 appointed the minister for Livestock, Agriculture and Fisheries.
Then, in 2009, Mujica's Broad Front party nominated him for the 2009 primary elections, which culminated in him emerging victorious in a run-off for Uruguay's presidency in November.
Since entering office, Mujica has reshaped Uruguay into one of the most liberal nations in South America, legalising cannabis, reforming abortion law and pushing for same-sex marriage.
Speaking to Time magazine, Mujica said that by regulating Uruguay's estimated £24 million-a-year cannabis business, he would weaken the drug cartels.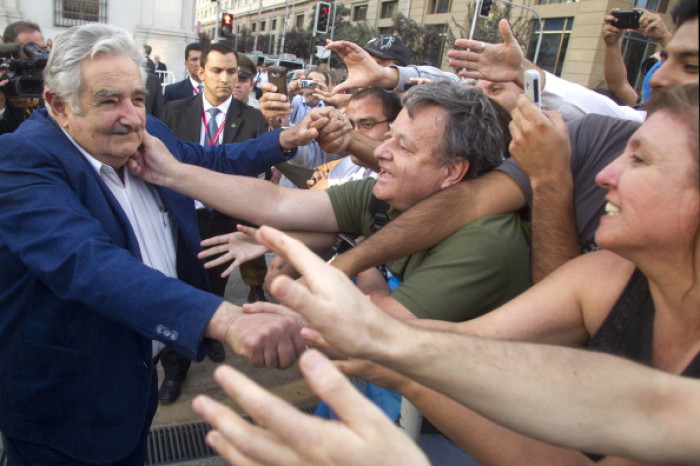 Austere life
Since his election victory in 2010, Mujica has shunned Uruguay's ostentacious Suárez y Reyes presidential estate in favour of his run-down farmhouse near captial city Montevideo, a home that relies on his three-legged dog Manuela as its beefed-up security.
He later announced the palace would be used as a shelter for homeless people.
Mujica's humble lifestyle means he never wears a tie to work and donates approximately 90% of his monthly wages to charity, cutting his income to about £485 a month - the average Uruguayan wage. Meanwhile, Suarez put pen to paper on a £200,000-a-week contract last season.
The president's travel arrangements also differ from what many world leaders would consider acceptable. US President Barack Obama might travel in the £175,000 state car, but Mujica makes do with his 1987 Volkswagen Beetle.
If you want to understand why Suarez goes into meltdown so often, a quick look at the man who runs his country might give you some helpful context.