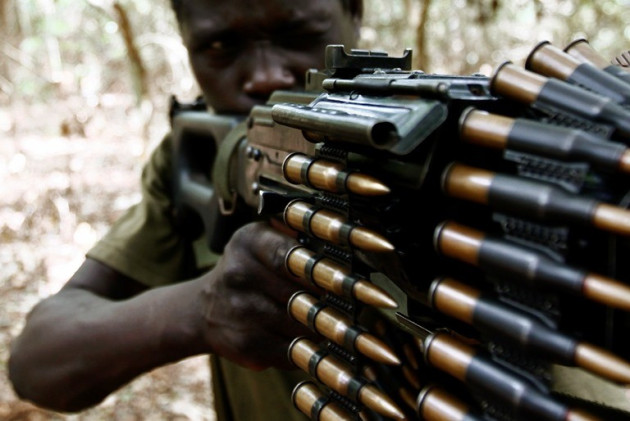 Joseph Kony, the fugitive warlord and self-proclaimed mystic whose Lord's Resistance Army (LRA) is accused of abducting and enslaving thousands of children across Eastern Africa, may surrender to pro-government forces, according to Michael Djotodia, the recently elected first Muslim president of the Central African Republic.
Djotodia said that government officials had made contact with Kony and that the rebel leader wanted to give himself up and "come out of the bush" after eight years on the run and with a $5m bounty on his head.
US officials cast doubt on claims that there had been any direct communications. LRA commanders including Kony, said the US State Department, used "any and every pretext to rest, regroup and rearm, ultimately returning to kidnapping, killing, displacing and otherwise abusing civilian populations".
Kony, who claimed that spirits told him to seize Uganda and run the country according to the Ten Commandments, came to the attention of the international community 20 years ago when his militia fought the Ugandan government of President Museveni.
The LRA operates in a number of neighbouring countries including South Sudan and the Democratic Republic of Congo and has ambushed and mutilated civilians and poached elephants for their ivory which it sells to buy arms and fund operations.
In 2008 peace talks with the LRA failed over Kony's fears that he would be transferred to the International Criminal Court (ICC). Since then, there there has been virtually no official contact with the group.
A documentary, Kony 2012, made by a group called Invisible Children, which begged the international community to prosecute Kony for war crimes, has been watched almost 100 million times. The African Union has sent a force of 5,000 soldiers to hunt for Kony and his fellow commanders.
With Kony's health apparently failing and with the US deploying 100 military advisers to help an additional force of 3,000 Ugandan troops trying to track him down, it is possible that the warlord has had enough.
France claimed that the republic was "on the verge of genocide" and United Nations Secretary-General Ban Ki-moon has urged the Security Council to send another 6,000 peacekeepers to bolster the 2,500 already there who have been powerless to prevent bloodshed.
The Central African Republic became independent in 1960 and has a population of five million. It has endured five coups and inter-tribal violence, as well as unrest between Christians and Muslims.
The country is regarded by many as little more than a "phantom state" - albeit one rich in gold and diamonds which have attracted mercenaries from across the continent and beyond.