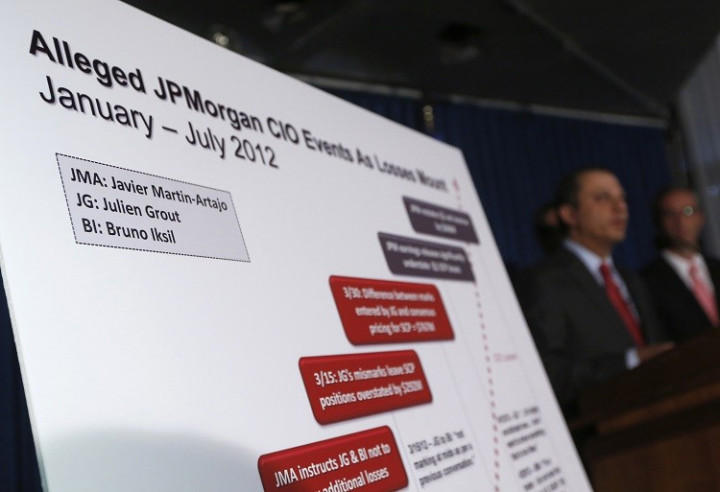 JPMorgan's former Chief Investment Office (CIO) head, Achilles Macris, has slammed the UK regulator over its findings related to the London Whale trading scandal that led to the bank racking up $6.2bn in legal losses.
In a statement, delivered by his spokesperson, Macris said he had not been given a proper opportunity by the Financial Conduct Authority (FCA) to respond to the criticisms over his CIO leadership.
"Mr. Macris strenuously denies the assertions made by the authority in the final notice as being factually wrong," said Macris' spokesperson.
"Those assertions fail to take proper account of the actions he took and mischaracterise his dealings with the authority at the relevant time."
In May 2012, trader Bruno Iksil, nicknamed the "London Whale" for his preference for huge trades, and his colleagues at the London unit of JPM's CIO lost billions of dollars through bad bets in a portfolio that was specifically designed to hedge the bank's risk exposure.
This prompted an investigation by several US authorities and JPM chief, Jamie Dimon, was forced to explain to the US senate the regulatory protocols of the CIO's risk managers.
Initially, Dimon dismissed the losses as a "tempest in a teapot," but later said it was "the stupidest and most embarrassing situation I have ever been a part of."
The bank has since stumped up nearly $1bn in fines related to the London Whale trading scandal.
The FCA declined to comment, and JPM was not immediately available for comment at the time of publication.
"So Damn Proud"
When the FCA issued its fine to JPM, it said "by virtue of the conduct of the CIO London management," JPM had deliberately misled the regulator.
Meanwhile, according to court filings, JPM's former chief investment officer Ina Drew and Macris, who were only referenced by job titles in passing, put "pressure on their subordinates at one point to deal with the high degree of risk being taken on in the portfolio of derivatives trades that led to the losses."
However, there are no allegations of wrongdoing or criminal activity in the complaints filing for Drew or Macris, and no suggestion that the two traders were prompted to cover up the losses.
In August, Javier Martin-Artajo and Julien Grout were charged by US authorities for allegedly trying to cover up the bank's vast losses generated from the 'London Whale,' on five counts each, including securities fraud and conspiracy.
Macris was Martin-Artajo's boss.
Meanwhile, JPM's chief executive Jamie Dimon launched a praise-laden statement about how he is "so damn proud" of the bank despite the firm's raft of scandals.