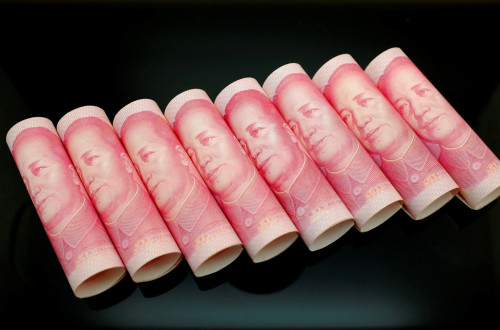 Asian currencies are expected to weaken amid concerns that an increase in borrowing costs in China and a weakening Japanese yen could weigh down on economic growth in the region, according to JPMorgan.
China's seven-day repo rate shot up to 4.98% on 17 January in Shanghai, the highest level since 2 January, according to National Interbank Funding Center.
The yen, which traded at 104.33 to the US dollar on 17 January, could drop to 115 this year with the Bank of Japan mulling more stimulus to offset a sales-tax hike due in April, former board member Nobuyuki Nakahara said on 16 January.
'Purest Expression'
"A trend of bearish" Asian currencies will "kick off," JPM analysts including Hong Kong-based Bert Gochet said in a note to clients on 16 January. "Worries over China's tight liquidity stance generate downside risks to growth."
The analysts recommended selling the Malaysian ringgit as the "purest expression of positioning for a lack of EM local bond inflows." Foreign investors held 45% of ringgit-denominated debt in November, the most among 10 developing countries, making Malaysia vulnerable to capital outflows, according to Credit Suisse Group.
JPM advised investors to further "underweight" the Philippine peso, saying local interest rates were too low. Investors should also exit a bet that the South Korean won would rise as the yen weakened, the bank said.
Based on interactions with customers, JPM said local bond funds had not received any inflows so far this year.
It would be the first time that has happened in January in six years, JPM said, citing data from EPFR Global.
Cash Crunch
China's cash crunch would continue in January with Beijing determined to limit shadow-banking financing and bring down banks' dependence on interbank funding amid concerns about delinquent loans, Haitong International Securities, part of China's second-largest brokerage, said in a 15 January report.
Loan disbursals in the world's second-largest economy dropped to a one-year low in December and money-supply growth also eased, People's Bank of China (PBoC) data showed on 15 January.
Chinese banks doled out 482.5bn yuan ($79.7bn, £48.5bn, €58.5bn) worth of new yuan loans in December, lower than the expected 600bn yuan and much lower than the preceding month's 624.6bn yuan.
The broad M2 money supply rose 13.6% on an annual basis in December, lower than the 14.2% increase in the preceding month. A Reuters poll had predicted a 13.8% increase for December.
Global Growth
Earlier in the week, the World Bank's twice yearly Global Economic Prospects report raised its forecast for global GDP growth to 3.2% in 2014, while shaving its estimates for China and other emerging-market economies.
The bank's chief economist Kaushik Basu noted in his introduction that the unwinding of quantitative easing by the US Federal Reserve had been smooth so far and the turmoil it caused in the spring and summer of 2013 when it was first proposed had not appeared so far.