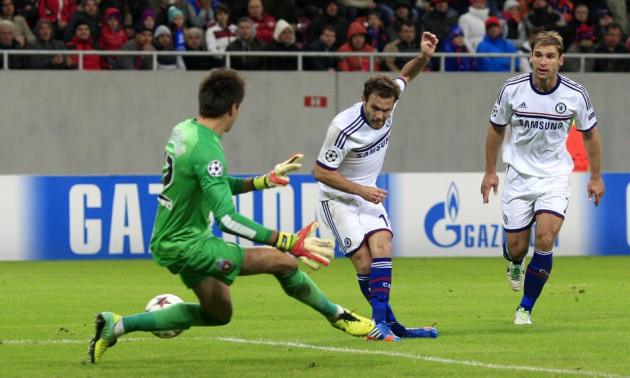 Chelsea's Juan Mata remains a January transfer target for Paris Saint Germain and Tottenham Hotspur despite the Spaniard's increased opportunities at Stamford Bridge, according to the Daily Telegraph.
Mata began the campaign out of favour with manager Jose Mourinho but has started the Blues' last two league games following an impressive showing off the bench against Spurs last month.
But with the likes of Oscar, Willian, Andre Schurrle and Eden Hazard in reserve, Mata is dispensable at Chelsea and PSG and Tottenham, both of whom have spent big in the last 12 months are both likely to launch a renewed bid for the ex-Valencia man.
After claiming the Ligue 1 title, PSG signed Edinson Cavani to bolster their attack while Tottenham signed seven new players in the summer to combat the loss of Gareth Bale who joined Real Madrid for a world-record fee.
Mata was the subject of much conjecture during the opening weeks of the season following a summer during which he was linked with a move to Manchester United, among others.
However, amid Kevin de Bruyne falling out of favour following a poor performance in the League Cup against Swindon Town, Mata has played a more telling role with his defining moment coming against Tottenham when a half-time introduction saw him set up John Terry's goal.
After winning the club's player of the season award last term Mata's omission came as a surprise in the early week of the season and former Valencia team-mate David Silva, the Manchester City midfielder, is among those bemused by his lack of appearances.
"It did surprise me when he was dropped and I don't think I was the only one," said Silva.
"The years he has spent playing at Chelsea, he has brought a lot to the side and contributed hugely to their team effort.
"Now he's back among the ranks, he is starting to prove what he can do and is producing again.
"He is a top player and I think he has given Chelsea a lot in his time. As well as the time we spent playing together at Valencia, we were mates before that and besides him being a great player, he is a really nice guy as well.
"Neither of us can complain what has happened to us in England. We have managed to win one or two trophies so things are going well."