Jubilee 2015: Isis terror threat scares off pilgrims from visiting Rome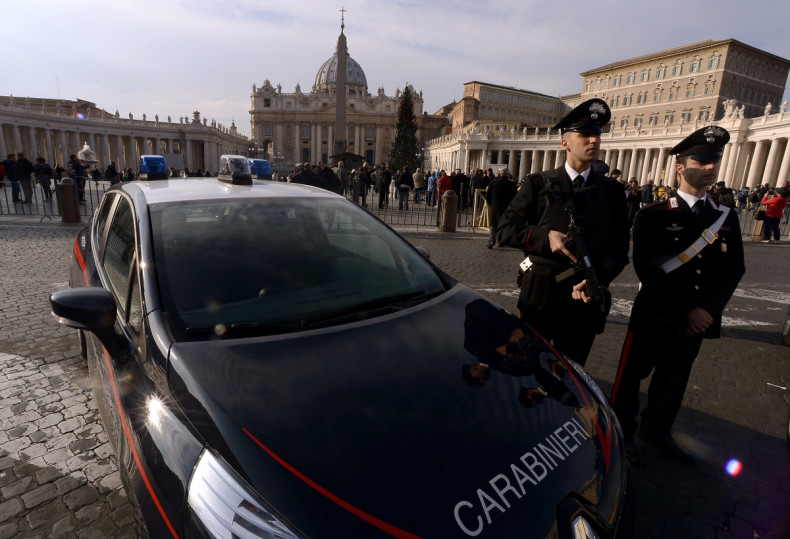 Pope Francis is set to open Holy Jubilee Year Of mercy on Tuesday (8 December) amid tight anti-terrorism measures that have scared off numerous potential pilgrims. Holy Years traditionally see Rome's streets buzzing with tourists but this time local hoteliers have experienced a significant drop in bookings.
"We are all empty," Federico Traldi, the chairman of an association grouping 700 guest houses in the Rome area, told IBTimes UK. Traldi said visitors are down 50% on last year, when the Italian capital was not hosting any major event.
Italy's hotels association, Federalberghi, also said their bookings in and around Rome were down 20% on 2014. Its head Bernabò Bocca said fears of Islamist State (IS) attacks have contributed to the bleak numbers. "With the Jubilee, the eternal city is considered a dangerous destination," he told La Stampa newspaper. "Italian and foreigners alike have changed plans because of the terrorist alert".
The IS (Daesh) has often issued propagandistic threats against Rome and the Vatican, which is a target of high symbolic value for the jihadi group that portrays all westerners as "crusaders". Italian authorities have not taken it lightly, especially after the attacks that left 130 dead in Paris last month.
Francis: We should resume our normal lives
For the Jubilee opening, security measures have been tightened in the capital and other sensitive sites. Some 2,000 police officers have been deployed across Rome and a no-fly zone has been ordered over the city centre.
Dozens of metal detectors will be used to scan people arriving in St Peter's Square, and streets around the Vatican will be closed to traffic. Transport of fuel and any potentially explosive material has been banned in the city and even setting off fireworks is not allowed.
Hotel owners said some tourists have cancelled their bookings, citing security reasons after the 13 November shootings and bombings in France. "It was not an en masse reaction but some did," said the head receptionist at Hotel Alimandi Vaticano, which lays just across the road from the Holy See. The man, who gave his name only as Nico, said that only about 30% of the hotel rooms were taken on Monday (7 December), despite it being a public holiday in Italy and the eve of the Jubilee.
The Holy See substitute for general affairs, Father Angelo Becciu, appealed to piligrims not to be afraid. "Francis said we cannot lock ourselves inside our homes but we shall resume our normal life, we can't let terrorist threats condition us otherwise we hand a victory to those who want to end of our way of life," he told Vatican radio.
Nico, however, didn't blame the drop in hotel bookings all on IS. The number of Italian tourists in Rome has also gone down significantly because of the economic crisis he claimed.
Usually, Jubilees are long-planned events that were once held every century and then every 25 years. There have been only 26 Holy Years in the history of the Roman Catholic Church. Pope Francis surprisingly announced the Holy Year of Mercy was to begin on 8 December only in March. "It's like organising a big party but telling everyone just a day earlier, no one is going to come," said Nico.
Moreover the pontiff breached with tradition, allowing faithful to receive special indulgences without travelling to Rome, previously a prerequisite to be granted the highest form of forgiveness. In the past a holy door was opened at the Vatican and worshippers had to walk through it if they wanted to receive a full pardon.
This year, Francis has authorised holy doors to be opened in every diocese of the world so that pilgrimage to the Holy See is no longer necessary. "He did it for mercy, not tourism," said Nico. Still between 25 and 33 million people were expected to take part in events and celebrations in Rome. Traldi was confident visitors will increase with time. People that were put off by terrorist threats and reports that the city is ill-equipped to receive millions of pilgrims might reconsider if things start on the right foot.
"I am optimistic," he said. "People now think that nothing works. The metro has issues, Isis is a problem... when they will see that things are fine, around March with the good season I am sure we will be full." The Jubilee ends on 20 November 2016.