Julia Gillard: Still not enough women getting to the top in politics
Australia's first female leader talks education, Hillary Clinton and that speech.
In 2012, Julia Gillard gave a speech that went viral. During a debate in parliament, Australia's first female prime minister delivered a 15-minute rebuke of Tony Abbott, the leader of the opposition, in which she branded him a sexist and a misogynist.
To date, the ABC video of the speech has been viewed 2.8 million times and has its own Wikipedia page. Her comments even led to a change in the definition of "misogyny" in the Australian dictionary, defining it as "entrenched prejudices of women" rather than "hatred of women".
Five years on, Gillard still finds women crossing the road to congratulate her. She will be sitting on a plane and another passenger will lean over and mention the incident.
In some cases, she tells IBTimes UK during an interview in Dubai, the only thing that person will know about Australia is kangaroos, koalas - and her speech.
"There was a time that I would be a little bit frustrated about that. You think [my] whole political career comes down to this speech. But I am reconciled to it now," she says.
"If there are women in the world that find that speech inspiring and it is the only thing they know about Australian politics, well, that is a pretty good thing."
Those who know a little more about Australia will also be likely to remember Gillard's exit from politics in an ugly power struggle that saw her ousted by her political rival and former boss, Kevin Rudd, after just three years in power. Both Rudd and Gillard had pledged to resign if the other triumphed, and Gillard made good on that pledge in June 2013 when Rudd beat her by just 12 votes.
A few years on and Gillard misses elements of political life but not the lack of privacy that comes with being leader.
"I miss the ability to see a problem, to think of some public policy solutions, consult on them and then have the power and the ability to make change. I miss that. I miss the sense of camaraderie with the best of my colleagues," she says.
"But there are some things that I don't miss: there is a relentlessness about modern politics, you never get a moment to yourself and there is a lot of media scrutiny and intrusion into your family's life, as well as your own life."
I don't think I should be looming over the shoulder of the current generation.
Looking back on her time in politics, Gillard is proudest of the changes to Australia's education system that she had seen implemented both as minister of education and then leader of the country. In 2014, she was appointed chair of the Global Partnership for Education, an international organisation that works to get young people across the world into primary and secondary school.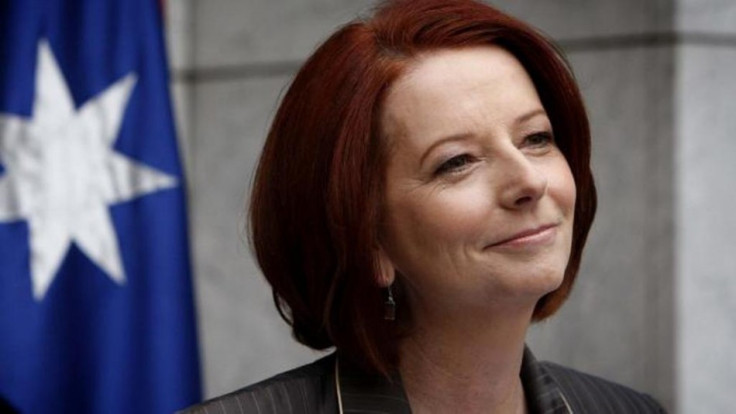 Although she is now based full-time in Adelaide, her work takes her around the world, most recently to Malawi, where just one in 10 girls complete secondary school. In Dubai she was attending the Global Education and Skills Forum, which brings together teachers, advocacy groups and politicians from across the world.
Since she left politics, Gillard says she has tried not to intervene in domestic issues, aside from continuing to support her former party under new leader Bill Shorten. The rival Liberal/ National Coalition beat Labor in the 2016 election but Australia goes to the polls every three years.
There are still barriers preventing women coming through.
"I made the decision post leaving parliament that you have got to let the next generation of Labor politicians get on with the job. So I don't involve myself in the domestic political debate, I don't think I should be looming over the shoulder of the current generation. I obviously wish them well," she says.
One area she does remain involved in is the promotion of women in politics. She was an enthusiastic support of Hillary Clinton's campaign for the White House and despite Donald Trump's victory in November, she feels that there is a growing awareness of gender imbalance in both politics and education.
"When you look around the world, women still tend not to be represented in anything like equal numbers," she explains. "For me, this comes down to a very simple concept: if you believe that men and women are equal and have equal capacities and if you look at our world and you aren't seeing half and half when it comes to the leadership of nations then means there are still barriers preventing women coming through," she says.
"In this quarrelsome, contested world why wouldn't we want to be drawing on the strength of half the global community?"
© Copyright IBTimes 2023. All rights reserved.