Julian Assange, the founder of whistleblowing website WikiLeaks, has slammed a book about NSA whistleblower Edward Snowden's escape from the US as being a clichéd hack job that has "minimal additional research".
Assange, who is hiding out in the Ecuador Embassy in London to avoid extradition to Sweden, where prosecutors want to question him over rape and sexual assault allegations, has written a scathing analysis for Newsweek (the sister publication of IBTimes UK) of The Snowden Files: The Inside Story Of The World's Most Wanted Man, a book by Guardian journalist Luke Harding.
The book explores what happened to Snowden after he leaked NSA revelations to the media and then had to flee the US to Hong Kong and then Russia in order to avoid being prosecuted.
Harding's work is now the subject of Snowden, an upcoming movie directed by Oliver Stone that will star the likes of Nicolas Cage, Joseph Gordon-Levitt and Zachary Quinto, but Assange feels the book and The Guardian have exploited Snowden's story for personal gain and that "Snowden deserves better".
"We all understand the pressures facing print journalism and the need to diversify revenue in order to cross-subsidise investigative journalism. But investigative journalism involves being able to develop relationships of trust with your sources," Assange writes.
"There is a conflict of interest here. Edward Snowden was left in the lurch in Hong Kong by The Guardian, and WikiLeaks had to step in to make sure he was safe. While WikiLeaks worked to find him a safe haven, The Guardian was already plotting to sell the film rights."
Punches being thrown at The Guardian
Assange brings up the accusation made by The eXile that Harding once ripped off articles by other journalists when he was based in Moscow for The Guardian, which later earned Harding the "plagiarist of the year" award from satirical magazine Private Eye in 2007.
He claims the book consists mostly of second-hand information that has been pieced together from other journalists who worked with Snowden including Glenn Greenwald, James Risen, Laura Poitras, Peter Mass and Janet Reitman, and that Harding has never even met or spoken to Snowden.
"The Snowden Files positions The Guardian as central to the Edward Snowden affair, elbowing out more significant players like Glenn Greenwald and Laura Poitras for Guardian stablemates, often with remarkably bad grace," Assange writes.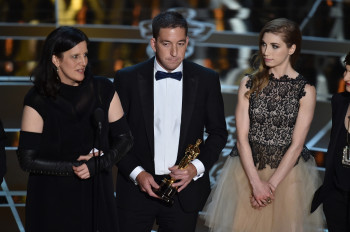 "'Disputatious gay' Glenn Greenwald's distress at the UK's detention of his husband, David Miranda, is described as 'emotional' and 'over-the-top'. My WikiLeaks colleague Sarah Harrison – who helped rescue Snowden from Hong Kong – is dismissed as a 'would-be journalist'."
Assange also pokes fun at the fact that The Guardian's editor Alan Rusbridger is "introduced and reintroduced in nearly every chapter" and he makes it clear that Harding doesn't really understand much about hacking and how government surveillance actually works.
"For our author, 'computer skills' are about as comprehensible as magical powers in a JK Rowling novel. Although examples of this can be found throughout the book, it is nowhere more apparent than in a transparent promo piece in The Guardian where Harding claimed that while he was writing The Snowden Files, his word processor would occasionally start to delete paragraphs while he watched," he writes.
"As a computer security expert who's been in this business for a long time, I can assure Harding that if a well-resourced intelligence agency has compromised his computer, it will not be going out of its way to advertise itself to him by playing silly games with his word processor."
To give newspaper the benefit of the doubt, Assange does have a rocky relationship with the publication, having previously had in a row with its former senior editor David Leigh over the decision to print a confidential encryption password that caused loads of US State Department secret cables to be revealed in full on the internet in 2011.
'Bulls**tter's Guide'
However, Assange claims he is annoyed because he was there, so he knows what happens, whereas Harding was not and he does not like the fact that the book says he "barged his way into [the Edward Snowden] drama".
"I was present at these events [Harding was not], and it was Edward Snowden who contacted me for help, not the other way around. This is something Snowden will happily confirm, at least to those who have access to him," Assange writes.
"We are left with a "Bulls**tter's Guide" to the world of the world's most wanted man. It is a book by someone who wasn't there, doesn't know, doesn't belong and doesn't understand."
Assange says he has been in contact with Oliver Stone and has made it clear that the book is not completely accurate, and that Stone has made sure his movie script does not use too much information from it.
He concludes: "For Snowden's sake, it is fortunate that Oliver Stone and his production team seem to know what they are doing. Without their intervention, we might now have been facing another Guardian-inspired box office catastrophe."