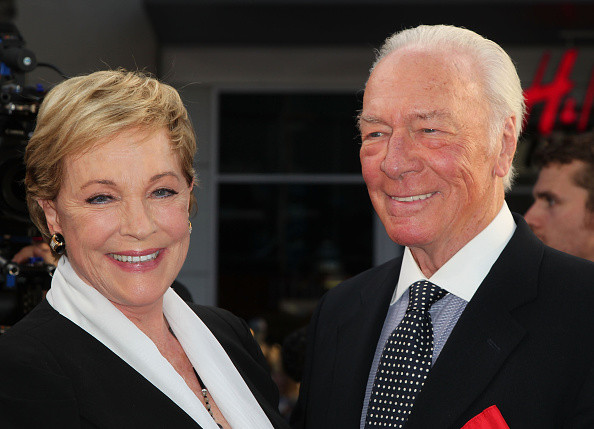 The Sound of Music stars Julie Andrews and Christopher Plummer were re-united at the 50th anniversary screening of the classic movie.
Plummer who portrayed the disciplinarian widowed Captain Von Trapp and father of seven errant children in need of a governess described the much-loved film as "the primal family movie of all time," and a "fairy tale come to life."
Speaking at the TCL Chinese Theatre Imax for the TCM Classic Film Festival Hollywood 2015 kickoff event, he said: "It's the last sort of bastion of peace and innocence in a very horrific sort of time."
A trained stage actor, Plummer was more accustomed to playing Hamlet and King Lear, before taking on the role, but said the experience fostered in him a love of cinema.
"I love making movies," said Plummer. "I used to think theatre was so much better. The writing was so intellectual. But then I said, 'What am I doing? They pay so well!'"
The close camaraderie and chemistry with former co-star Julie Andrews who portrayed the flighty Fraulein Maria, was still evident as the pair took part in an introductory Q&A moderated by Academy of Motion Picture Arts and Sciences first vice president Sid Ganis.
Questioned as to whether their on-screen romance continued off-screen Plummer replied: "I fell in love with her when I was sitting in the balcony watching her do 'My Fair Lady. Every day (on set) she was as fresh as a daisy."
"'You called me a saint," Andrews joked.
Commenting on the success of the film which is hailed as cultural phenomenon, Andrews said: "It has the children and the nuns and it has the love story. You can pick any of those things when you're watching the film."
She also credited Plummer for his key role in the enduring popularity of the show.
"You made it less saccharine because of the way you played the captain," said Andrews to Plummer. "Without that we would have been sunk."
"It was made 51 years ago and it endures and it lives on," concluded Ganis.
The last of the real-life Trapp Family Singers, Maria von Trapp who inspired The Sound of Music, died last year at the age of 99.