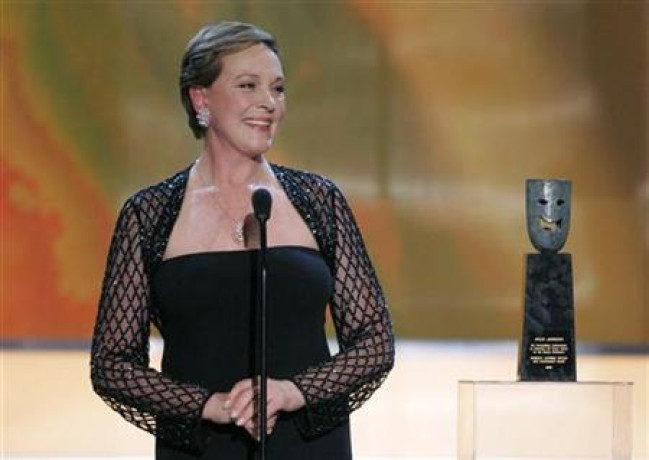 Julie Andrews said that while she was 'devastated' when a botched throat surgery resulted in her losing her soprano, on reflection it might have been a blessing in disguise.
The Sound of Music star underwent the operation nearly 20 years ago, and while she feared it was the end of her career, in fact it inspired her to take her career in a completely new direction.
In an interview with People magazine, the 79-year-old recounted the experience saying: "For a while, I was in total denial, but then I had to do something. I thought at the time [of the surgery,] my voice was what I am - but it seems it's not all that I am," she explained.
The actress turned her hand instead to writing and went to on to carve a successful career as an author. She has co-written several books with her daughter Emma Walton Hamilton, including Dumpy the Dumptruck and The Very Fairy Princess children's series, which made number one on the New York Times Picture Book Bestseller List.
"What I say in the [Sound of Music] is true: a door closes and a window opens. Had I not lost my voice, I would never have written this number of books. I would never have discovered that pleasure," she explained.
The veteran star has also gone on to feature in films such as The Princess Diaries and Despicable Me, winning a new generation of audiences.
Winning worldwide fame for her performance as Maria Von Trapp in The Sound of Music, the film celebrates its 50th anniversary this year.
Reflecting on her performance in the movie she said: "You always see something you wish you could change or do, But we had a phenomenal director on that film and we were so caught up in managing it and making it work.
"I think that being kept that busy didn't allow for much reflection on how nervous I was about it. What helped was the kindness of Robert Wise, who made me feel like I was in such safe, sure hands at the time," she added.
The last of the real-life Trapp Family Singers, Maria von Trapp who inspired The Sound of Music, died last year at the age of 99.