The trailer for Jumanji: Welcome To The Jungle has arrived and the internet is sceptical about Hollywood's latest update of a classic.
Originally starring late comedian Robin Williams, Jumanji now features Kevin Hart and Dwayne "The Rock" Johnson fronting the family adventure. The trailer opens with four teenagers, Spencer, Bethany, Martha and Fridge, sitting in detention before being tasked with clearing out the school's basement.
Soon enough the teens come across an old video game, Jumanji, before being sucked into the screen and transforming into the avatars they're playing i.e. Hart, Johnson, Jack Black and Karan Gillan.
The first trailer, which is soundtracked by Guns N' Roses' Welcome To The Jungle, immediately offers a modern touch to separate itself from the original with selfie sticks and mobile phones.
However, not everyone is sold on the bold new look with one tweeting: "Not sure how I feel about the new Jumanji trailer. Why did they turn it into a console game? Should have kept the original Board game."
Another agreed: "This looks f*****g awful. Way to destroy all the charm of the old film while introducing nothing new. Oh yeah people like video games wooo."
Still nostalgic for Williams' version of the 1995 classic, another chimed in: "There will always be only one Jumanji in my heart. Robin Williams forever."
Another said: "As one of my favourite movies from my childhood this revision of the Jumanji property looks so cringy."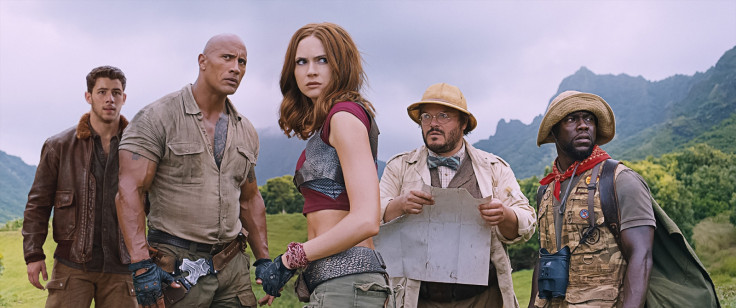 Others expressed their annoyance for the current Hollywood trend of rebooting childhood favourites with a completely new storyline.
One critic added to the debate: "Jumanji and The Mummy are starting a new trend where they make completely new movie concepts and call them reboots for name recognition."
Another added: "Well looks like we got a Ghostbusters for 2017." A third sceptic also said: "The new #Jumanji looking mad stupid. Stop wrecking classics and just make new movies with different names."
Some are more willing to give the reboot a chance with one supporter countering the criticism: "Gonna be honest, I really like the look of the new Jumanji movie! I'm looking forward to it." A second agreed: "I've never been a fan of Jumanji but it looks like fun. I hate all these people s******g on it over a 90s film they're nostalgic over."
Johnson, 45, hit back at critics in August 2016 stating that Welcome To The Jungle is "not a reboot, but rather a continuation of the awesome Jumanji story."
Jumanji: Welcome To The Jungle hits UK cinemas on Boxing Day (26 December).