Disney is no stranger to a live-action reboot of their animated classics, considering Glenn Close first brought iconic villain Cruella de Vil to life in 1996 with 101 Dalmatians, and now we are being spoiled by the much-loved stories returning to the big-screen. Alice In Wonderland, Maleficent, and Cinderella have delighted in recent years, and most recently The Jungle Book has delighted fans.
With their classics on our minds, Disney has become quite the discussion point at the IBTimes UK Entertainment desk with all of us getting into pretty heated debates about which animation is the best, or more accurately, our personal favourites.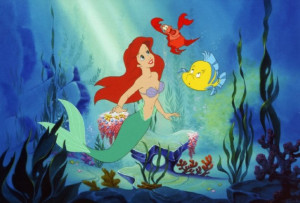 Disney have been creating these movies since 1937, so people of almost every generation grew up with a few favourites. When something is linked with your childhood, it can hold special meaning to you, adding to the film's sweet nostalgia.
Having been released just before I was born, I'd have to say that The Little Mermaid (1989) is the best Disney classic. The main reason I loved that film was the music. As a bit of a daydreamer, I dare say I related to Ariel on some subconscious level too.
Fellow reporter Alicia Adejobi, who is around my age, agreed with my choice, saying: "My ultimate Disney movie has got to be The Little Mermaid. The story is beautifully told and Ariel is such an endearing character with just enough sass to make her entertaining. The soundtrack is also timeless and one of the best Disney has ever created – sorry Frozen. Simply, The Little Mermaid is great to watch no matter what age you are."
Some Disney movies possess a sense of timelessness about them. This rings true with Entertainment Reporter Lucia Binding's choice of favourite – Snow White And The Seven Dwarfs.
"Snow White would have to be my all time favourite. The hilarious contrasting characters of the dwarfs defined various character traits when I was young, and the fun humour of it all was counteracted by the profound jealousy The Queen felt for Snow White. It gave me an insight to the growing idea of image and the obsession of youth and beauty as I was growing up."
Lifestyle Editor Alice Cuffe opted for a different choice, confidently claiming: "Robin Hood (1973) is without a doubt the most incredible Disney film. A romantic, adventurous British mythology lesson (albeit slightly skewed) with the most incredible soundtrack and the only good sexy animated foxes in existence."
So now we've shared all of our favourites, which true original is yours? There's certainly no wrong answer...