Based upon the 1894 novel by Rudyard Kipling and inspired by its 1967 animation of the same tale, Disney delights with its modernised version of The Jungle Book.
As expected, the adaptation tells of the adventures of Mowgli, a man-cub who has been raised by a family of protective wolves. But Mowgli finds himself no longer welcome in his beloved jungle when scarred tiger Shere Khan promises to kill him before he grows old and dangerous.
Forced to abandon the only home and "people" he's ever known, Mowgli embarks on a treacherous yet fun-filled journey to the man-village, accompanied by his lifelong friend, panther-turned-mentor Bagheera, and the free-spirited and forever-hungry bear Baloo. Along the way, Mowgli is introduced to jungle creatures much less hospitable than the ones he's grown up with, including the hypnotising python Kaa and the power-hungry King Louie, who tries to coerce Mowgli into helping him create man's elusive red flower (fire) in order to take control of the jungle.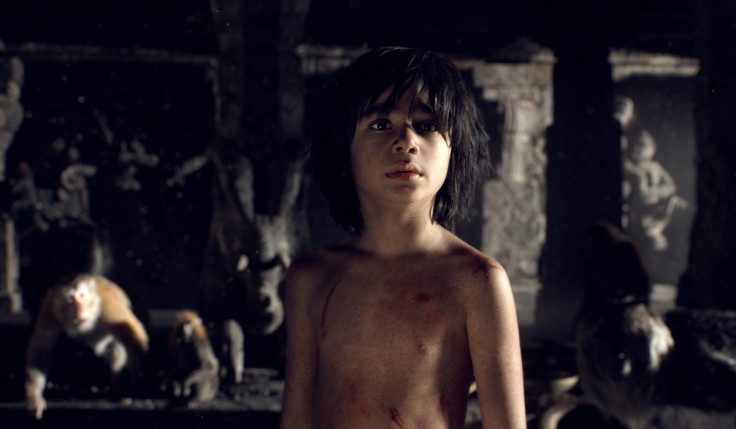 Our verdict
Reboots have always been a divisive and controversial subject among cinemagoers. But with outings such as Jon Favreau's The Jungle Book, it's easy to see why they are made; bringing such wonderful stories into a modern age and using groundbreaking CGI technologies and award-winning actors to add value to the film that came before it.
Here, the photo-realistic visuals are nothing short of phenomenal and make for a much more absorbing and darker take on the classic tale, constantly plunging viewers further into the depths, and subsequently the dangers, of a menacing jungle full of threats rather than simply wonder – although there is certainly a fair share of that, too.

Being so realistic, the idea of death is never too far away during Mowgli's adventure-filled journey to the man-village, be it in the form of stampeding buffalo, particularly angry bees or even just a rotting tree and with that, it's surprising that the film-makers decided to feature the musical numbers from the 1967 original which sadly come across completely out of place and forced.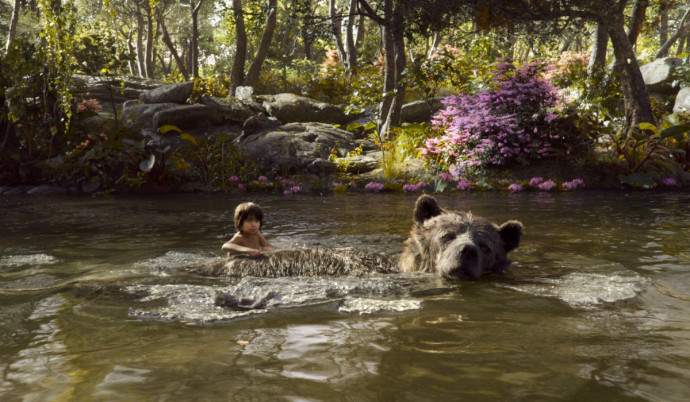 The Bare Necessities just about gets away with it, given the upbeat tone of the movie at the point it is interjected, but Christopher Walken's drunken-style rendition of King Louie's I Wanna Be Like You is something that all of us could have done without. Especially when the previous scene had his character, trying to bargain a dodgy deal with the young man-cub, appearing more like Don Corleone than just an ambitious ape. It's a truly ominous segment as a gargantuan Louie delivers his requests from the shadows of a ruined temple while his baying monkey-subjects pen Mowgli in... It's just a shame it had to be interrupted by gratuitous nostalgia.
The on-screen equivalent to Aladdin's Genie, The Jungle Book's comic-relief Baloo is undoubtedly the most iconic character, meaning Bill Murray had big shoes to fill – if bears wore shoes that is. Luckily for fans of the beloved bear, Murray nails it and rivals newcomer Neel Sethi as the film's standout character, presenting the same laid-back honey-lover with a heart as gold as the nectar he so desperately seeks.
As the film's sole live-action actor Sethi portrays Mowgli with impressive ease, even down to the cartoon character's knees-out walk and cheeky comebacks. On occasion, he slips into an almost wooden delivery of his lines, but considering Hollywood A-listers have said that they struggle to work opposite green screen sometimes, Sethi's first on-screen performance is pretty remarkable.
While Murray perfectly channels Baloo's carefree nature, Idris Elba is busy voicing Shere Khan, offering up a character so intimidating that he will likely scare adults, let alone younger viewers. But perhaps it's Shere Khan's appearance that comes across more frighteningly savage than Elba's barely-altered Luther-esque voice. Voice work is a difficult task when one's voice is so recognisable and, unfortunately, every time the scarred tiger opens his mouth, you just KNOW who it is.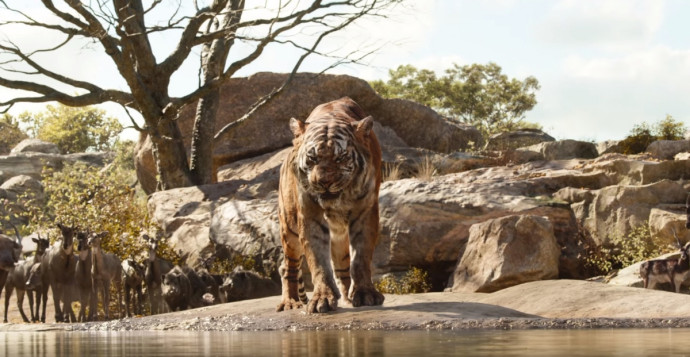 Like so many of the other voice actors here, Ben Kingsley's judgmental guardian Bagheera is almost perfect but somewhat misses the execution of that regal, slinky smooth rasp that Sebastian Cabot exhibited in the animated original. Still, emotion permeates his performance making his connection with Mowgli so palpable the pair's bond is evident and provides many of the scenes' most touching moments and the same goes for Lupita Nyong'o who voices Mowgli's adoptive wolf mother, Raksha.
To find fault in this breathtakingly beautiful epic is pure nit-picking however and it's fair to say that The Jungle Book is undoubtedly the best Disney live-action adaptation to date. Where 2014's Maleficent took a beloved villain and tried to reinvent her story or 2015's Cinderella missed some of the original's magic by adding too many comedic nods, The Jungle Book remains completely faithful to its source material, besting it in scale and look while simultaneously championing Kipling's revered storytelling.
"The strength of the pack is the wolf/And the strength of the wolf is the pack," they fittingly utter throughout, lifting the words straight from Kipling's classic novel – let's just hope they keep the same pack of all who made this film possible for the sequel already in the works.