Junior doctors' strike: Palestinian medics send message of support to NHS staff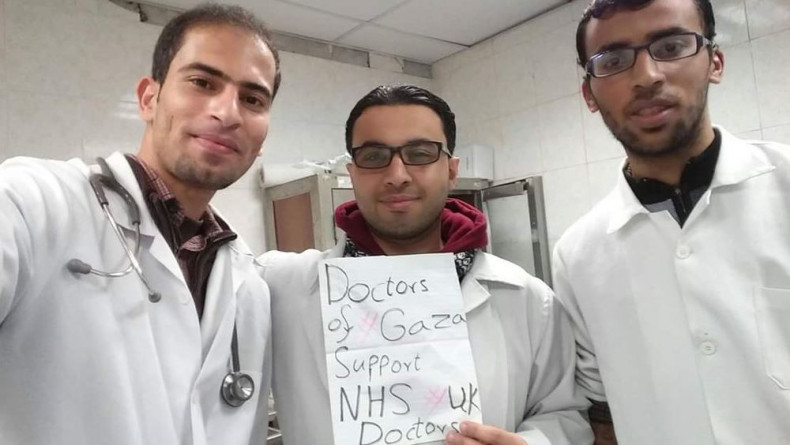 Palestinian medics working in the Gaza Strip have expressed solidarity with NHS junior doctors who went on strike across England on 13 January. Pictures shared on social media showed Palestinian medical staff holding a placard saying: "Doctors of Gaza support NHS UK doctors."
The pictures were posted on Twitter by Mohammed Ziara, a recently graduated doctor from Gaza who completed his studies six months ago. The 24-year-old, who works as a junior doctor in Shifa Hospital, told the BBC: "I do have a lot of friends and followers in UK and I noticed some of them joined the protest of junior doctors there to save the National Health Service.
"As I am a junior doctor with the same profession, I decided to stand in solidarity with junior doctors of the UK in their rightful strike.
"I have never been to the UK before, but I know a lot of doctors there as yearly there is a doctors' delegation from the UK, who come with help from Doctors Without Borders and Medical Aid for Palestinians, to train junior doctors in Gaza and help with some advanced surgeries. We are one profession and we stand for each other."
The messages of support, retweeted by hundreds of Ziara's followers, came as junior doctors across England staged a 24-hour strike on 12 and 13 January as part of a dispute with the government over changes to their contract.
---
What is the dispute over a new contract all about?
---
There are hopes a deal can be done to avoid further walkouts, with talks between the British Medical Association (BMA) and the Department of Health resuming on 14 January.
A 48-hour strike, which will see emergency care only in hospitals across England, is currently scheduled for 26 to 28 January. Should there be no resolution to the dispute, junior doctors will then stage a full withdrawal of labour on 10 February.
Ziara was pictured with two colleagues, Dr Hasan Mustafa and Dr Mohammed Abu Selmia, who both work as junior doctors in Shifa Hospital. He said they were "very happy and excited to stand in solidarity" with their counterparts in England.