A new photo from the much anticipated movie Jurassic World has surfaced online.
Director Colin Trevorrow unveiled a new still from the film featuring Chris Pratt alongside a Raptor.
He tweeted:
Happy Holidays from the editing room. Do not try this at home. pic.twitter.com/cL755EHExw

— Colin Trevorrow (@colintrevorrow) December 17, 2014
The movie is set 22 years after the events of Steven Spielberg's original 1993 Michael Crichton adaption, Jurassic Park.
The first trailer of the movie showed Chris Pratt riding a motorcycle alongside Velociraptors.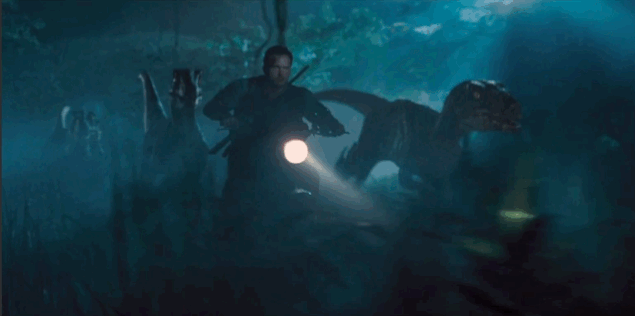 Trevorrow spoke about Pratt's character in an interview, and revealed that Pratt's character, Owen, will be responsible for doing behavioural research on dinosaurs.
"Chris Pratt's character is doing behavioural research on the raptors. They aren't trained, they can't do tricks," he said.
"He's just trying to figure out the limits of the relationship between these highly intelligent creatures and human beings. If people don't think there's potential in those ideas, maybe they won't like this movie. But I ask them to give it a chance."
Other than Dinosaurs, this fourth instalment of the Jurassic Park series features mosasaurus, an aquatic beast, also called the Great White Shark.
Jurassic World is due for release in theaters on 12 June 2015.
Watch the trailer here: