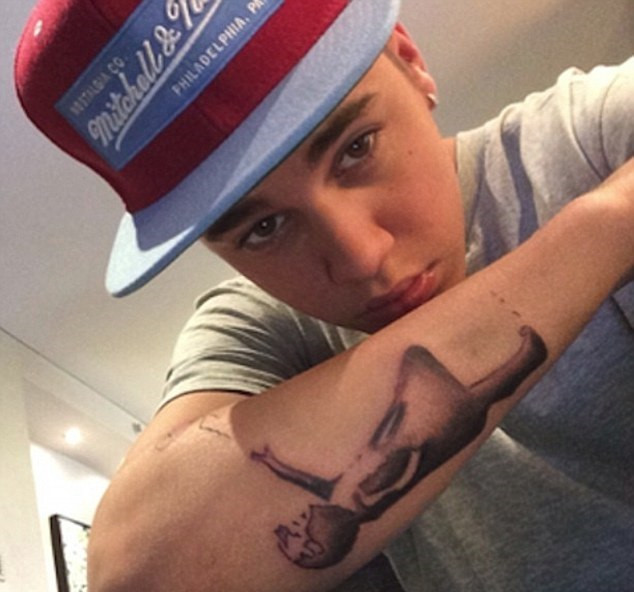 Is Justin Bieber's latest tattoo a message celebrating his rekindled romance with Selena Gomez?
Looks like Bieber is so on top of the world after getting back with Gomez that he felt the need to express it literally on top of the world.
The singer got 'forgive' inked on his stomach while flying over 30,000 mile up aboard a plane, reports Hollywood Life.
The 'Broken' singer got the new tattoo on a flight to Canada just five days after his infamous Miami Beach arrest.
The new ink was done by New York City tattoo artist Bang-Bang, whose client list includes Rihanna, Selena Gomez, Katy Perry and many other big celebs, reports TMZ.
As for the reason behind him getting a new tattoo, Bang-Bang says that Bieber sent him a text afterward, explaining, "Forgiveness is powerful, forgive as Jesus died on the cross to forgive our sins."
But according to the Hollywood Life, the word 'forgive' could have a double meaning — "one that relates to how Selena Gomez forgave Justin, and took him back after all the things the two went through," states the report.
Bang Bang also told TMZ that the work was done during terrible turbulence and called it "the most difficult tattoo I've ever done for sure."
Justin Bieber and Selena Gomez seem to be inseparable ever since they got back together. The two have reportedly been sending each other sexts and naked photos.
Gomez also recently posted the following racy image of herself on Instagram which is reportedly clicked by Bieber: