Teen heart-throb Justin Bieber shows he's up there with the ladies in the fashion stakes with a double whammy of leopard-print trousers and trainers.
Bieber is a big fan of the safari look, as he wore the animal print style for the second night in a row.
On Sunday 3 March, he was spotted in the eye-catching outfit as he returned to his London hotel following his Saturday night concert in London.
His screaming fans were out in force and Bieber acknowledged them with some strange double peace signs, with arms crossed. Or was it a rude V-sign for the paparazzi?
The star's bodyguards blocked the Bieber faithful from getting too close to the 5'7" Baby singer.
One of them turned a mini flashlight on the crowd and photographers to keep them at a safe distance.
His leopard-print theme continued from the night before, when he sported an animal print rucksack, securely strapped to both shoulders.
Bieber's style choices are many and varied - the 19-year-old doesn't shy away from neon high tops, denim dungarees or harem pants.
He even sported the topless look with baggy jeans hanging below his white boxer shorts after his birthday celebrations.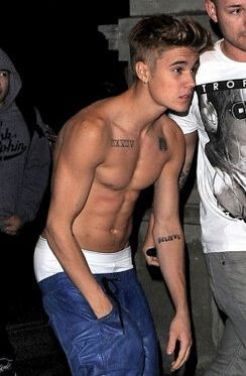 Other celebrity fans of the animal print include Victoria's Secret model Miranda Kerr, the wife of actor Orlando Bloom, who favours leopard-print jackets.
Mariah Carey has also been spotted in a red leopard skin trench coat on her day off from judging TV show American Idol.
But the biggest fan of the fashion statement must be Rihanna. The R&B star decorated her entire room in leopard print while on tour, complete with animal print rugs. Sounds like it was a roaring success.