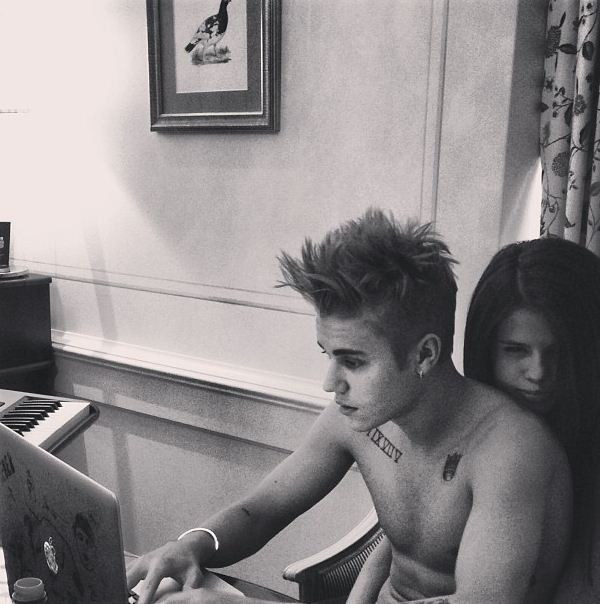 Pop icon Justin Bieber has set tongues wagging after posting an intimate photograph of himself with on/off girlfriend Selena Gomez.
The two were believed to have broken up but speculation persisted over a possible reunion. Earlier this month, the 20-year-old Gomez flew to Oslo in Norway to see Bieber in concert. This photograph would appear to be conclusive proof the two are back together.
"They were holding hands, hugging and they kissed on the lips," a source told People, "They looked really in love, like no fights ever happened before. It definitely looked like they were back together."
The 19-year-old Bieber posted a photograph in which he is shirtless and seen concentrating on a laptop, while Gomez hugs him from behind and lays her head on his shoulder. The caption reads: ""You've been makin music for too long babe come cuddle" -her."
Predictably, Bieber's fans were excited about the couple's picture but the post garnered mixed reactions.
"@MrsLilSwaggyy It's annoys me so much when he says how Selena and Justin are back together just to make me mad I don't care."
"@biebuhcanaduh "Jelena is back together means Selena is promoting her new album" why didn't I notice this before?!"
"@rafisadelila Can't believe it, they're getting back together, yay yay supprot Justin & Selena "
"@burntdrews but my sister looks like selena thats why i dont talk to her."
"@MagicrauhI U know, i don't really like Jelena. But if Justin loves Selena. Let him. We just wanna see a smile on his face. "
"@KidrauhlRules I woke up and saw that picture on Instagram.. My hearts breaks. Bc do you remember that selena said she made justin cry? :'("
"@InKidrauhlsArmy Just remember Selena every time you're hugging justin, you're having millions of people's world in your hands"
"@franziskaxmaria RESPECT SELENA? I'm sorry but I have trouble on respecting someone who drops Justin, shades him and crawls back when she needs promotion"
Justin Bieber and Selena Gomez are scheduled to make an appearance at the Radio Disney Music Awards on 27 April, at Los Angeles' Nokia Theatre.