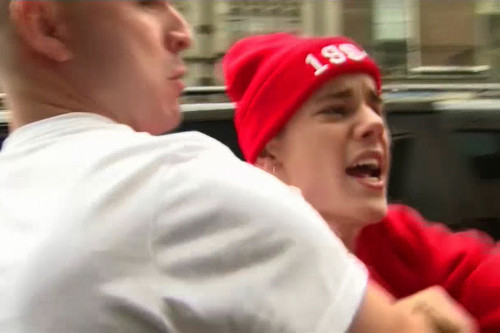 Reports of Justin Bieber getting 'smacked' by NBA player Blake Griffin turned out to be a hoax after all and netizens seem upset about that.
Several popular sports blogs reported on Monday that Griffin "smacked the sh*t" out of Bieber after the singer refused to put on a shirt inside a West Hollywood Starbucks outlet, according to Gossip Cop.
The website subsequently reported, after checking with a source close to Bieber, that the story was false. As per the 'source', the rumour was "made up", as Justin had "not returned to Los Angeles for weeks".
The real kicker came when LA Laker's player Chris Kaman posted a tweet which pointed towards the report being true after all, at least to an extent:
I was sitting in the corner of Starbucks and Blake did not smack Bieber! Well at least not that hard.....

— Chris Kaman (@ChrisKaman) February 11, 2014
However, the Lakers star followed it up with a second tweet that put an end to all speculations on the matter, once and for all:
It's funny how some of u ppl believe anything....

— Chris Kaman (@ChrisKaman) February 11, 2014
But even though this story turned out to be false, it didn't stop people from voicing their approval of Griffin roughing up the infamous Bieber, on Twitter:
if this blake griffin smacking bieber story is even 1/8th true i am 102% buying a griffin jersey tomorrow.

— brad copeland (@brad_copeland) February 11, 2014
Blake Griffin solidifies himself as my favorite basketball player of all time: http://t.co/1AxFbSeBS4 — MikeFalzone (@MikeFalzone) February 12, 2014
Is this is true I just became a Blake Griffin fan. Sounds like that Bieber kid could use some tough love. http://t.co/F6CaLds6GU

— Dustin Smith (@qbelite) February 12, 2014
I wish I could have seen Blake Griffin smack Justin Bieber to the ground... That would have made my day. pic.twitter.com/bHthOjs1Qv — Kyle Wilson (@_KWil_) February 12, 2014
If this is true, @blakegriffin32 might just be one of my favorite people! http://t.co/P728fUfHEG

— John Lock (@TheJohnLock) February 12, 2014