Justin Trudeau, Canada's newly elected prime ,inister, must be the only 43-year-old who is ecstatic to be returning to the house he grew up in.
Canada's new premier has had to shake off his privileged background. The son of the country's iconic 16-year PM Pierre Trudeau, Justin was born in the Canadian prime minister's residence at 24 Sussex Drive. However there are some aspects of his evolving personality, after a lifetime in the media spotlight, that are just now coming to the fore.
As ever, ahead of the zeitgeist, British comedian John Oliver lampooned Trudeau's changing image on the eve of Canada's federal election.
"If you do a Google image search on him you can find every poor fashion choice that he has ever made. From a 90's boyband member one week before entering rehab, to an LL Bean sweater model who just underwent a lobotomy to Johnny Depp's evil twin," Oliver said on his late-night comedy show Last Week Tonight.
In March 2012, Turdeau entered the Canadian psyche not as the son of a much-loved former prime minister but as a fighter, literally. He beat Conservative senator Patrick Brazeau in a charity boxing match, giving his opponent a bloody nose in the final round.
Wearing Canada's liberal red colours, and showing a native tribal tattoo on his left arm, Trudeau came out on top and was spared a haircut. A buzz shave was the penalty borne by the loser in the low-stakes bout.
Pugilist probably suited Trudeau better than practical joker. The French Canadian native appeared on Quebec television explaining his favourite comedy set-piece meant to baffle dinner guests and friends. The elaborate ploy, it seemed, involved getting close to the intended victim before Trudeau pretended to fall and then hurled himself down a set of stairs. It was strange.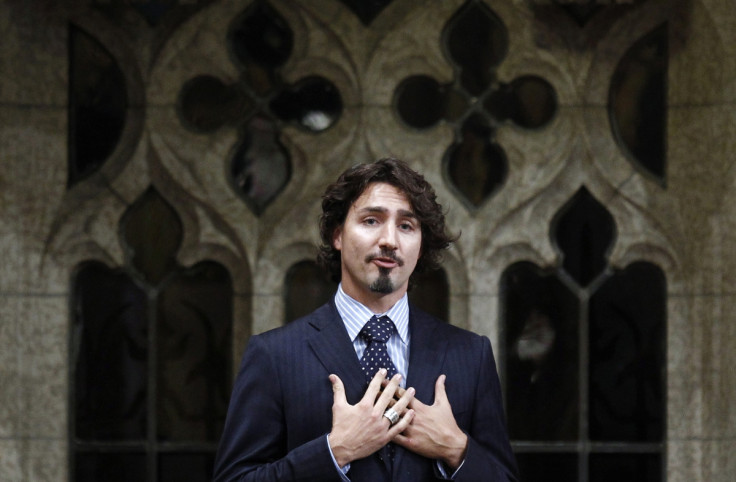 Nevertheless, Canadians seem happy with their young, shining leader. The favoured son has a packed liberal agenda to enact as he takes the helm. He has promised to run a C$10bn (£4.96bn) budget deficit for three years, legalise marijuana, make massive infrastructure investment and deliver middle-class tax cuts, policies that became new symbols of hope in the election campaign, which was one of the longest in Canada's history.
Showing himself prepared to do all that he can to break with the last 11 years of Conservative government in Canada, Trudeau has said he will pull Canadian jet fighters out of coalition air strikes on Syria and Iraq. Canada's growing image as an interventionist nation was seen as one of the many ways outgoing PM Stephen Harper had broke with the country's core values.