Canadian Prime Minister Justin Trudeau warned nations not to follow the "inward" facing attitude of the US and the UK. His comments came in the wake of US president Donald Trump's nationalistic approach to politics and Britain's exit from the European Union.
Speaking ahead of the G20 summit, Trudeau said that were "clear disagreements" with the US when it came to trade and foreign policy. He made the comments during a visit to Dublin where he met with the new Irish prime minister, Leo Varadkar.
Trudeau said: "There are tremendous opportunities for countries like Canada and Ireland, at a time where perhaps our significant allies and trading partners in the case of both the US and the UK are turning inward or at least turning into a different direction."
Trump criticised Canada, accusing it of "dumping" low-priced exports into the US via the North Atlantic Free Trade Agreement (Nafta), a deal that he has regularly chastised.
Trump has regularly spoken about putting "America first", a reason the president gave for pulling the US out of the Paris climate agreement.
"The choices made by the United States on trade and climate change are at odds with the majority of G20 countries, or even all the other G20 countries," said the Canadian leader.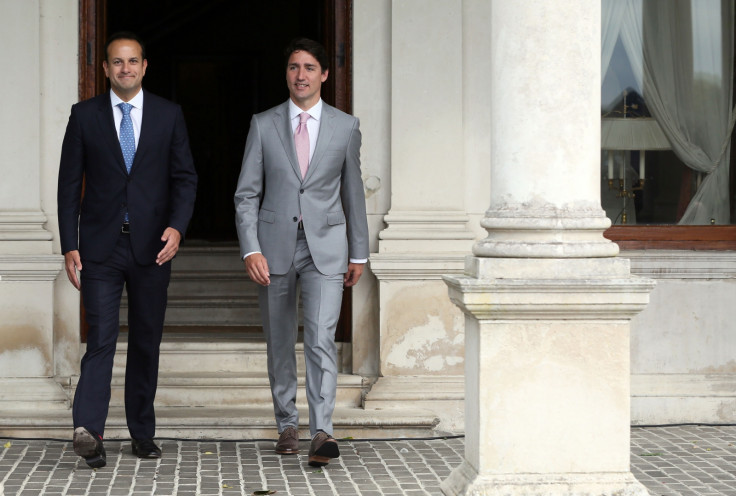 Meanwhile, Varadkar appeared to criticise Britain's "unfortunate" decision to leave the EU. He said: "We each share a relationship with a very big neighbour, a neighbour that has to a certain extent decided to go in a different direction at least for the time being."
The Canadian leader's trip to Ireland was organised by Varadkar's predecessor Enda Kenny. The pair were spotted running together as well as attending a state dinner.
Trudeau will join the likes of Angela Merkel, Theresa May and Xi Jinping as the G20 summit takes place on between 7-8 July in Hamburg. Hot topics are expected to be climate change, trade and migration.