Canadian Prime Minister Justin Trudeau has defended his choice to take his family on a private holiday to a Caribbean island owned by the Aga Khan – the spiritual leader or Imam of the world's Nizari Ismailis – despite claims that he did not seek proper ethics clearance. Following the leak of information regarding his New Year trip to Bell Island, Trudeau confirmed the details and added that he made use of the Aga Khan's private helicopter for the journey.
"The travel back-and-forth from Nassau to the island happens on the Aga Khan's private helicopter, which he offered us the use of," Trudeau said on 12 January in a televised news conference in Kingston, Ontario. "We don't see an issue on that," he added.
Prince Shah Karim, the current holder of the Aga Khan title, is a close Trudeau family friend, however, under ethics rules introduced by the PM himself in 2015, government ministers are not allowed to take private flights without getting approval from Mary Dawson, the country's conflict of interest and ethics commissioner.
Dawson may launch an investigation into the vacation, to which Trudeau said he is open to discussion.
"It's something that certainly we look forward to discussing with ... the conflict of interest and ethics commissioner. But we don't see an issue on that," the Canadian leader said.
Meanwhile, new Democratic Party leader Tom Mulcair said, "These were not exceptional circumstances and therefore cannot excuse the use of a private helicopter. This is a clear conflict of interest and it's worrisome that the prime minister has been so evasive about the specifics of this trip."
Trudeau's officials, including Newfoundland MP Seamus O'Regan, his husband, as well as Liberal party president Anna Gainey and her husband, who were also on the island, have remained tight-lipped about the vacation.
Who is the Aga Khan?
Aga Khan is the title given to the spiritual leader of the world's 15 million Nizari Ismailis, a minority community within the Shia sect of Islam. The current holder of the title is Prince Shah Karim Al Hussaini, Aga Khan IV.
The 80-year-old is a philanthropist who runs one of the world's largest private charities — the Aga Khan Development Network.
According to Forbes magazine, he was ranked among the world's 10 richest royals in 2010, with a fortune of $800m.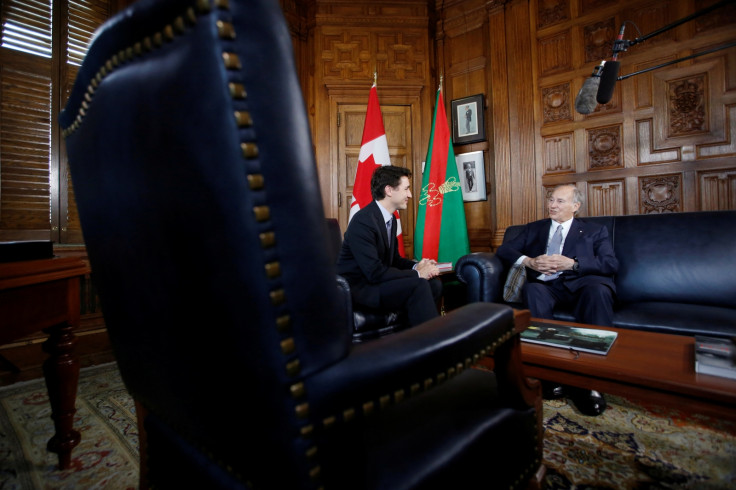 What is the Aga Khan's relation to PM Justin Trudeau?
In the 1970s, the Ugandan dictator Idi Amin expelled Ismailis from the country, giving them only 90 days to leave. At the time, the Aga Khan called on then-Prime Minister Pierre Trudeau to help. Canada gave refuge to around 7,000 people.
"He was a pallbearer for my father's funeral. He has known me since I was a toddler," the prime minister said of the Aga Khan's relationship with his family.