Justin Trudeau has been sworn in as Canada's 23rd prime minister at Rideau Hall in Ottawa, and immediately named a 31-member cabinet. A self-proclaimed feminist, he kept his promise by appointing
a gender-equal cabinet
.
"I, Justin P. J. Trudeau, do solemnly and sincerely swear that I shall be a true and faithful servant to Her Majesty Queen Elizabeth the Second, as a member of Her Majesty's Privy Council for Canada," he said during the ceremony.
"I will, in all things to be treated, debated and resolved in Privy Council, faithfully, honestly and truly declare my mind and my opinion. I shall keep secret all matters committed and revealed to me in this capacity, or that shall be secretly treated of in Council. Generally, in all things I shall do as a faithful and true servant ought to do for Her Majesty. So help me, God."
The Liberal government's cabinet includes a mix of fresh faces and political veterans. Bill Morneau, a political newcomer, has been appointed as finance minister while former Liberal leader Stephane Dion becomes foreign affairs minister and Ralph Goodale is the public safety minister.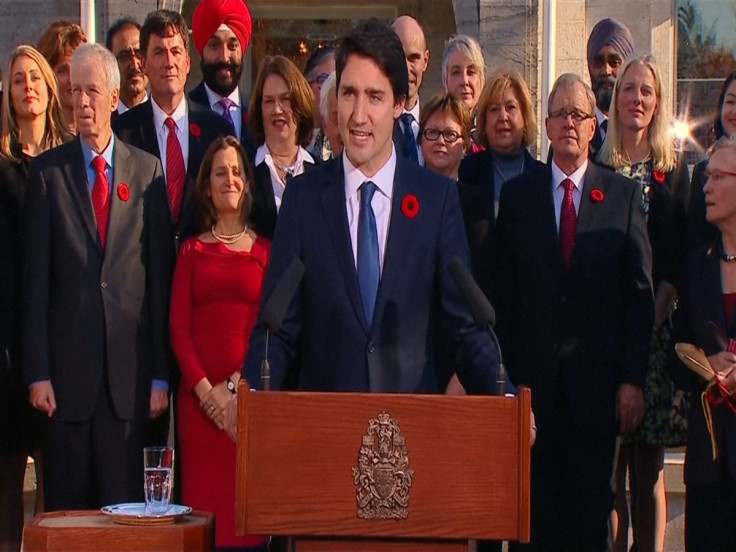 Trudeau hailed "a cabinet that looks like Canada" and issued a statement to claim the strength of his its diversity, gender equality and experience, promising to collaborate with the provinces, rebuild relations with indigenous Canadians and run an open, ethical and transparent government.
"We have an awful lot of work to do in the coming weeks, months and years, but I know that Canadians expected us to come together and put forward a team that is going to be able to deliver on the change, on the ambitious plan for this country that the Liberal Party ran on, and that's exactly what we are going to deliver," the new prime minister said while speaking to the public.
Trudeau, 43, defeated the then incumbent Stephen Harper of Conservative Party in the October election.