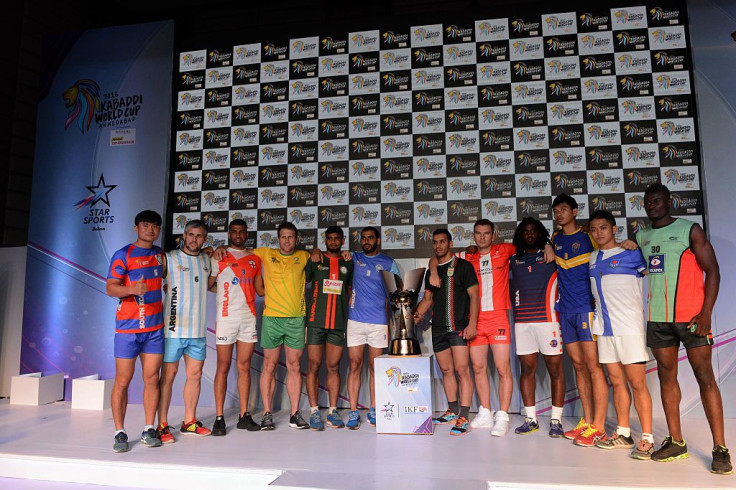 The 2016 Kabaddi World Cup is the third edition of the indoor format of the sport that is being held at the Arena by TransStadia in Ahmedabad, Gujarat. 12 teams are participating in the tournament and these two teams are divided into two groups, with each group consisting of six teams.
Defending champions India are hosting the event and are one of the firm favourites to retain the title. They have won it in the previous two occasions, defeating Iran in both the finals in 2004 and 2007.
Iran are also one of the favourites, along with South Korea. Bangladesh, who finished third in the previous two occasions, are also in the mix. The remaining eight teams are Australia, England, Japan, Kenya, Poland, Argentina, Thailand and United States.
The points table for the 2016 Kabaddi World Cup is given below:
Pool A
| | | | | | | |
| --- | --- | --- | --- | --- | --- | --- |
| Pool A | Mat | Won | Draw | Lost | SD | Points |
| Korea | 5 | 5 | 0 | 0 | 108 | 25 |
| India | 5 | 3 | 0 | 1 | 174 | 21 |
| Bangladesh | 5 | 2 | 0 | 2 | 107 | 16 |
| England | 5 | 2 | 0 | 3 | -40 | 10 |
| Australia | 5 | 1 | 0 | 4 | -165 | 5 |
| Argentina | 5 | 0 | 0 | 4 | -184 | 0 |
Pool B
| | | | | | | |
| --- | --- | --- | --- | --- | --- | --- |
| Pool B | Mat | Won | Draw | Lost | SD | Points |
| Thailand | 5 | 4 | 0 | 1 | 82 | 20 |
| Iran | 5 | 4 | 0 | 1 | 71 | 20 |
| Japan | 5 | 3 | 0 | 2 | 45 | 16 |
| Japan | 5 | 2 | 0 | 3 | 8 | 12 |
| Poland | 5 | 2 | 0 | 3 | 5 | 11 |
| USA | 5 | 0 | 0 | 5 | -211 | 0 |