'Rajnikanth doesn't wear a watch. He decides what time it is,' 'Rajnikanth killed the Dead Sea,' 'Google won't find Rajnikanth because you don't find Rajnikanth; Rajnikanth finds you' are some of the popular one-liners which quintessentially captivate how the superstar, one of Asia's highest-paid actors, is adored in the southern state of Tamil Nadu.
The movie Kabali is the latest feather, with a strong tint of a political colour, in his cap, which he wears quite comfortably in a movie – probably for the first time ever in memory of the current generation of movie-goers. Though his movies of the past two decades are often peppered with strong undertones championing social causes, this is the first full-fledged movie in which he essays a politically charged role.
Coming up with a story based on persecution of a group of people – in this case, Tamils in Malaysia – with the presence of a movie star, who enjoys a cult status, is a mammoth task for any film-maker, leave alone this movie's director Pa Ranjith, who is a mere two movies-old. Earlier Tamil films such as Kannathil Muthamittal, directed by the legendary Mani Ratnam, and Nanda, made by the renowned filmmaker Bala, did not have to carry the baggage of stardom in their films. Both the films deal with alleged persecution of Tamils during the Sri Lanka War.
Ranjith's homework on centuries-old Tamil labour in the east Asian region, especially Malaysia, forms the backbone of the movie and it does come across on the screen right from the characters' diction and slang to racial tensions between Tamils and Chinese.
Our verdict
Kabali is a not-so- archetypal Rajnikanth movie with a politically charged theme revolving around the discrimination against Tamils in Malaysia. With occasional moments of brilliance, the movie partly quenches the thirst of die-hard Rajnikanth-fans and panders to the Tamil audience in Malaysia.
Set in Malaysia, Kabali aka Kabaleeswaran (Rajnikanth), an eponymous ganglord, emerges out of prison after spending 25 years. The 65-year-old's characteristic gait, which earned him the title of "king of style" in Tamil Nadu, is a bit shaky sending a warning sign that even dons, if not demigods, do age. Quickly adorning a finely tailored three-piece suit and hopping into a classic Merc, the protagonist sets the story in motion by confronting a key henchman from a rival gang, named Gang 43. Kabali's gang was underpinned by the fact that it would not engage in illegal or sex drug trade.
The gang-war drama heats up as Kabali takes on his lesser-mortal rivals one after another. Nonetheless, the use of a multitude of weapons from pistols to firearms to long knives only adds confusion to the action-packed fight scenes, and, essentially slows down the pace of the proceedings.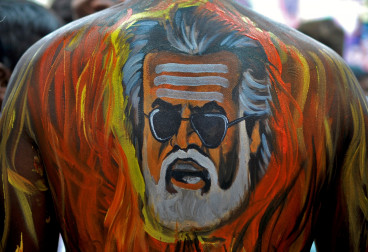 The story takes a cinematic turn when Yogi (Dhansika), a short-haired female mercenary, hired by the villain turns out to be Kabali's own daughter, who was brought up as a gun-for-hire by her foster father. The father-daughter duo then, predictably, pairs up to combat the foes even while searching for Kumudavalli (Radhika Apte), Kabali's wife, who he thinks is dead.
The take on how he turns into a ganglord from a local activist is brief but serves its purpose. Above all, there are flashes of Rajnikanth's brilliance when he brims with nostalgia for Kumudavalli. Scenes where Kabali and Kumudavalli appear together are riveting, partially because of Apte, who has effortlessly penned the role.
Kumudavalli's dialogues with Kabali are intense. Once Kabali finds her, he laments: "Alas! I spent all these 25 years thinking you were dead," to which, she responds: "I was dead until you found me."
The interweaving of Kabali's love life and don life is graceful but cobbled up into an actor-driven story.
Kabali's main antagonist Tony Lee, performed by Taiwanese actor Winston Chao, comes across more of a neophyte to Tamil movies and less of a powerful don, who wields enormous control over illegal drugs, prostitution, and money laundering.
Santhosh Narayanan's music keeps up with the tempo of the movie.
Rajnikanth-starrers usually stand out for their sheer record-crunching numbers. It's hard to imagine cinema halls opening at 4am and 16-screen multiplexes having 80 shows a day for a single film, with a full house, for any other actor in India, if not for the rest of the world. Special flights were even arranged for movie-goers to watch Kabali with their fellow fans in the movie-crazy city of Chennai from other parts of India as part of the marketing campaign. Several businesses declared a holiday on Friday, 22 July allowing the employees not to suddenly fall "sick".
Kabali, reportedly made with a budget of about 1.1bn Indian rupees (£1.2m), raked in double the amount even before its release by means of selling satellite rights, music rights and overseas market rights. As if to emphasise the monetary aspect of Rajnikanth films, a movie-goer at an over-crowded massive lavatory in a multiplex, said: "It seems we need to pre-book a toilet seat as well if it's a Rajnikanth movie."