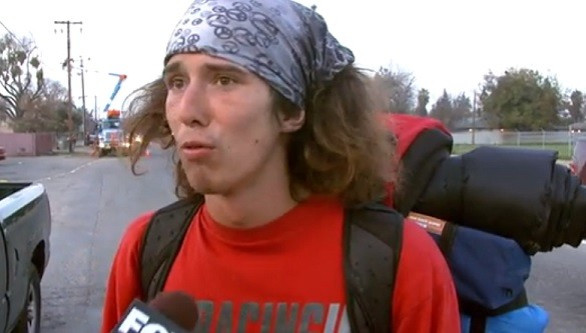 An internet celebrity known as Kai the Hatchet Wielding Hitchhiker is wanted by police on suspicion of murdering a pensioner.
Police in New Jersey said they have issued an arrest warrant for Caleb McGillvary for the murder of Joseph Galfy.
An autopsy of the 73-year-old, revealed he died after being hit by a blunt object inside his home in Starlite Drive, New Jersey.
McGillvary, 24, became a YouTube sensation after a video of him giving an animated interview to a news channel about how he saved a woman from an attacker with a hatchet went viral. It attracted millions of online views.
McGillvary is also known as Kai Lawrence, Caleb Kai Lawrence and Kai Nicodemus.
Prosecutor Theodore Romankow would not reveal why McGillvary - who is homeless and relies on strangers for food and accommodation - was regarded as a murder suspect.
Police said he should be considered armed and dangerous. Authorities believe he has cut his hair and tattooed his face to alter his appearance.
According to reports, he was last seen at a train station in Haddonfield, New Jersey. Police have issued a $5,000 (£3,200) reward for information leading to his arrest.
After becoming an internet celebrity, the homeless hitchhiker appeared on US chatshow Jimmy Kimmel Live.
The video can be seen below [Warning: Strong langauge]