An 18-year-old girl who was abducted from a Florida hospital as a baby in Jacksonville on 10 July 1998, has been reunited with her biological parents.
Posing as a hospital worker, 51-year-old Gloria Williams took Kamiyah Mobley from her birth mother's arms just eight hours after she was born.
For 18-years Kamiyah — who had been given the name Alexis Manigo — had no idea that Gloria was not her real mother. Her real parents were in fact Shanara Mobley and Craig Aiken, who had been hoping that they would one day be reunited with her.
While the kidnapping was classified as a cold case, when following up on a recent tip-off, detectives were able to track down the teenager in South Carolina with a matching birth date to that of Mobley. A DNA test proved she was the missing baby.
After discovering the truth about Gloria's secret, 18-long years later, Kamiyah was finally reunited with her birth parents on Saturday (15 January) at a police station in Walterboro, in South Carolina.
During the emotional reunion Kamiyah posed with her parents for their first photo together. Describing the moment he saw his long-lost daughter for the very first time her father, Aiken, 41, said: "It was the best day of my life. It was a beautiful, beautiful day. We are so happy. I hope the world is rejoicing with us."
Aiken said they didn't talk about the kidnapping, but spent an hour getting to know one another. "We laughed, we chatted, we didn't allow any negative thoughts. We didn't talk about the kidnapping," he told Mail Online.
He revealed that Kamiyah was conflicted by the betrayal of the woman who had raised her as her mother. "It's going to be hard for her to turn this into a positive," he explained. "She's got very mixed emotions about the woman who raised her. But we are going to be there for her, this is just the start of a wonderful future."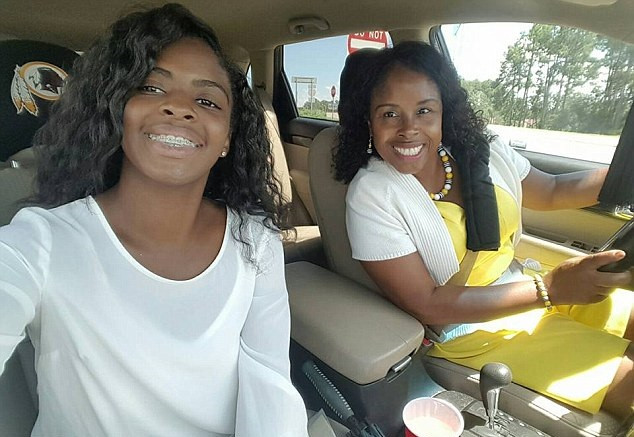 Williams, is currently in custody awaiting extradition to Florida to face kidnapping charges. It has since emerged that she had suffered a miscarriage a week before she drove from South Carolina to Florida and abducted baby Kamiyah, Walterboro Live reports.
She had convinced family and friends that the newborn was her own daughter and Kamiyah herself believed that she was the eldest of three siblings.
Hours after Williams was arrested Kamiyah took to Facebook to defend her abductor saying: "My mother raised me with everything I needed and most of all everything I wanted," she wrote. "My mother is no felon."
Williams could face up to life in prison if convicted.