Kim Kardashian West and Kris Jenner were seen leaving Sunrise Hospital in Las Vegas on Wednesday, where former LA Lakers player Lama Odom has been in a coma since he was found unconscious at a brothel in Pahrump, Nevada, on Tuesday afternoon.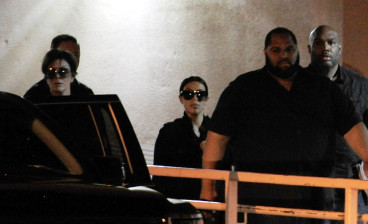 Odom, who had cocaine and opiates in his system, remains in a coma, and Khloé is making medical decisions since their divorce has not yet been finalized and the two are still legally married.
Kris, Kim and Khloé "dropped everything" when they heard the news and flew to the hospital on Tuesday night to visit Odom.
The Daily Mail report that Lamar Odom is "completely off ventilator and breathing on his own", three days after overdosing in Nevada brothel. He had reportedly come out of his coma when legal wife Khloe Kardashian said "I Love You," according to college coach Jim Harrick.
The family has suspended all activity on their paid-for apps to rally round 35-year-old Odom. 'As a family we've decided to hold off on publishing content across our apps while we continue to support and pray for Lamar,' they said. 'Thank you for your kindness and understanding during this difficult time.
Sources said Khloe has become a "shell of herself" since Odom's collapse. Being his legal guardian - in charge of his medical decisions - has "been very hard on her", Us Magazine reported.
Her mother Kris and all sisters except for Kendall initially flew to the hospital on Thursday, and left a few hours later. Khloe, however, refused to leave Odom's side. Kim had revealed on her Twitter account that night that she and Kendall had made Lamar smile.
Brothel Bender
Odom spent $79,000 (£51,169) on a 4-day brothel bender which included prostitutes, alcohol and drugs, according to the Daily Mail. Security footage emerged showing Odom taking pills and drinking with a prostitute in the brothel where he was fell ill. The clip reportedly shows the basketball star slumped over in his seat as he is given a drink and a shot by the bikini-clad woman at the Love Ranch Vegas on Saturday, three days before he collapsed. He then takes a pill out of a small bag and popping it into his mouth, it was reported by Radar Online.
Previously, reports claimed four of his organs - including his kidneys - were failing and that doctors were losing hope for him the longer he was in a coma. "He still has a lot of problems with his internal organs. His kidneys are a big worry," the source says. "He has done a lot of damage to his body," a source close to the Kardashian family tells People. "He will probably never be back to where he was before. Damage has been done."
Kardashian Divorce
Despite divorcing in July, Khloe could inherit a "large chunk" of Odom's fortune, which is believed to be around $56m (£36.2m), if he does not pull through, TMZ reports. It said the couple signed a pre-nup which separated their money but sources close to the family claim Odom does not have a will which means, under the laws of California, she would be entitled to one-third of his net worth if he were to die.