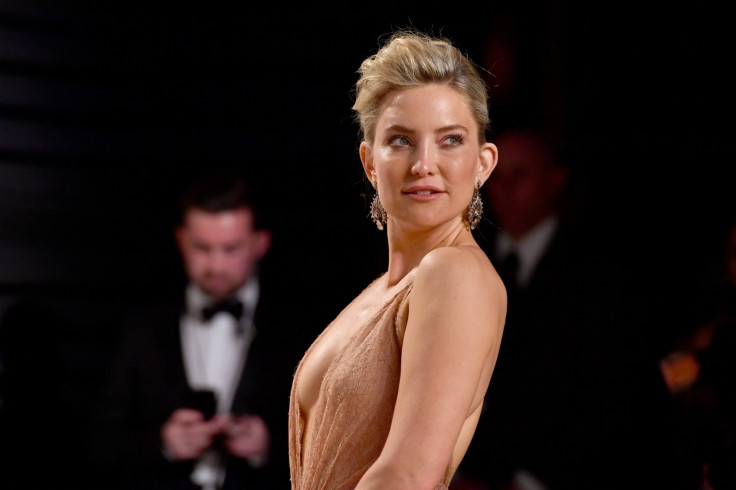 Kate Hudson dazzled on the red carpet in a low-cut silver gown while rocking her edgy new buzz cut while attending the 21st Urbanworld Film Festival in New York City on Monday (25 September). The Almost Famous actress ditched her bra and showed off her tanned back in the gown.
Matching her dress with silver heels and sparkling earrings, the mother-of-two also posted the photo from her dazzling night out on her official Instagram. And fans are obviously going wild.
She captioned the Instagram post, "Marshall ready! #PremiereTime #NYC #OutOct13@marshallmovie."
In the second photo that she posted from the event, Hudson is seen posing alongside her Marshall co-stars. "Last night's premiere of @marshallmovie with these amazing men @sterlingkbrown @chadwickboseman@joshgad #MarshallMovie#GotTheBandBackTogether#UrbanWorldFilmFestival #Oct13, " she captioned the image.
The stunning photo was clearly a hit with her fans as it racked up a whopping 227,310 likes (and counting) and was followed by a flood of compliments from her 7.7 million followers, with a user playfully exclaiming, "Mama Mia."
Another fan of the Hollywood star commented, "You look incredible, Kate!!"
"Anyways, you are gorgeous just the way you are," a user wrote, while an admirer said, "You are so angelic and have such a cute personality."
Most of her followers love her dramatic new hairdo, with one saying, "U look beautiful, I love the new haircut," while another noted, "You look gorgeous with this haircut! Only a few can do it! Wow!"
"With or without hair, it doesn't matter, gorgeous!" a fan of the How To Lose A Guy In 10 Days actress said.
The actress also opened up to E! News while promoting her new film Marshall about why she had got the cut.
She explained, "I wish the [Sisters] story felt [bigger]. For me, it was a necessary thing to do for this part. I was so excited about it. So it was like, 'Okay, let's just shave it.' So it was more excitement than overthinking it."
The hairdo is for her upcoming role in Sisters, a feature film set for release in 2018, which is co-written and directed by singer Sia.