Kate Middleton banned from Wimbledon finals in 2013 while pregnant with Prince George
The Duchess of Cambridge missed seeing Andy Murray win his first Wimbledon title.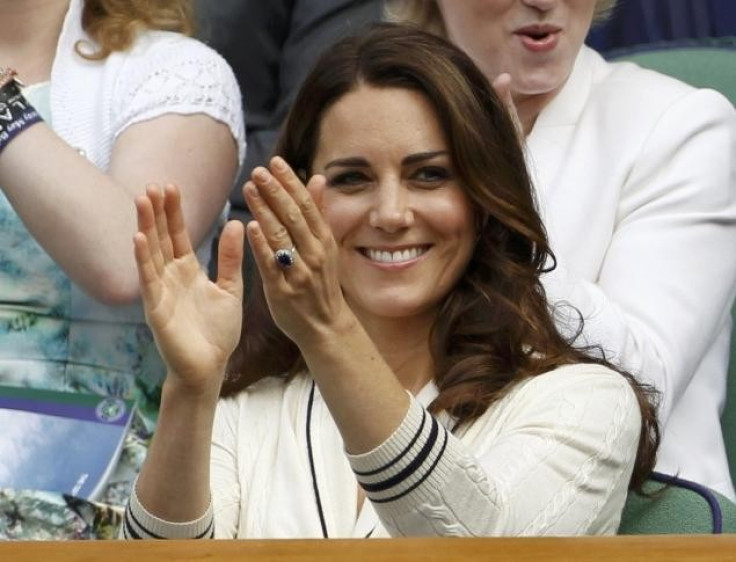 Kate Middleton has revealed that she was banned from attending the Wimbledon finals while she was heavily pregnant with Prince George.
Speaking in a new BBC documentary the Duchess who is a keen tennis fan had reportedly pleaded with her doctor to let her take a seat in the royal box on centre court to watch the tournament in 2013.
However he responded with a very firm "definitely not," according to the Daily Mail.
And while she was unable to take her seat in the royal box to watch the action on centre court as Andy Murray beat Novac Djokovic in a gripping final, Middleton revealed that she sent the victorious tennis star a letter. "I was very heavily pregnant. I wrote to him [Murray] afterwards saying sorry for not being there".
Fortunately the Duchess watched Murray win the title for the second time as he came face-to-face with Canadian Milos Raonic last year. Kate looked delighted as she cheered on the Scotsman as he beat Raonic in straight sets in the finals.
The Duchesses passion for tennis began before she married Prince William and the royal even stood in line to queue up for a ticket. "Being able to go into Wimbledon and be part of an amazing atmosphere is special," she said.
A sports enthusiast the mother-of-two had a tennis court installed at her Amner Hall home. She revealed that she had once even considered pursuing a career in tennis. "It inspires young people including myself. Every time Wimbledon is on I am thinking 'Yes, I could do the same' and get out the racket. Sadly, not the same results," she admitted.
Earlier the mother-of-two told former British number one Greg Rusedski that her son George is already showing a keen interest in the sport and has his won racket.
"She talked about George, her little boy, playing tennis," said the tennis star. "He's got a racket and he enjoys playing tennis, and obviously she plays with William. So they obviously enjoy the sport very much."
Kate has been confirmed to attend the Wimbledon tennis championship in her role as patron of the All England Lawn Tennis Club when the tournament begins on Monday 3 July.
The Duchess of Cambridge will meet some of the ball boys and girls and some of the staff, including the tournament's stewards and its medical and safety teams, according to the Evening Standard.
© Copyright IBTimes 2023. All rights reserved.