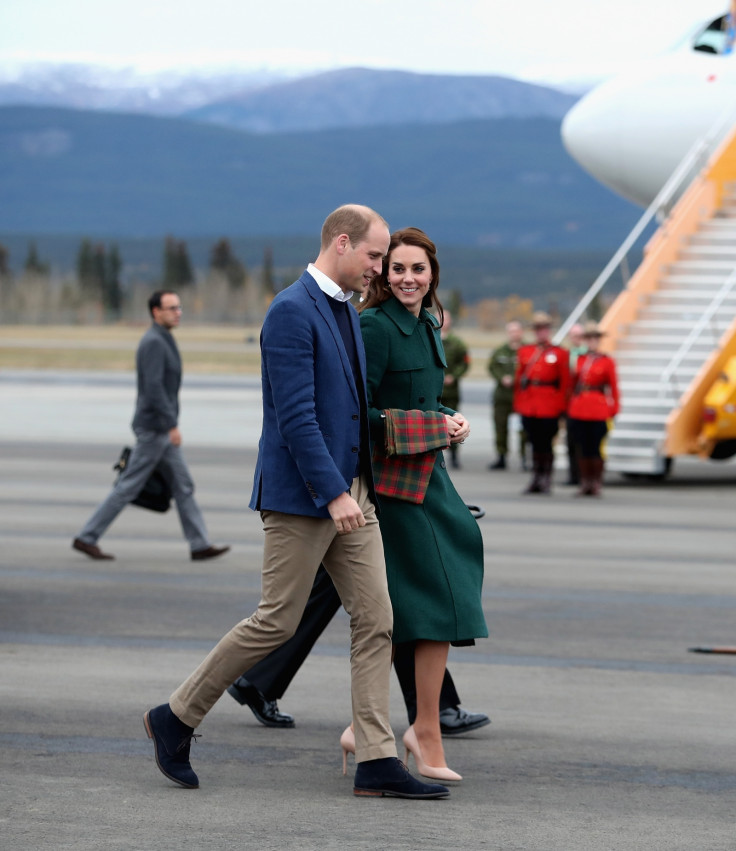 Kate Middleton may have made royal watchers green with envy over her sartorial choices on Tuesday (27 September) – day four of the Canada tour – by opting for a forest green coat, but it was her loving looks toward Prince William that melted hearts. The royal couple appeared happier than ever as they laughed, joked and seldom took their eyes off one another after jetting into Whitehorse in the Yukon territory.
The 34-year-old Duchess of Cambridge proved that strong block colours do her justice as the trench coat from luxury high street brand Hobbs complimented her dark tresses for the perfect autumnal look.
Kate still managed to look chic despite being exposed to the near zero-degree temperatures of Canada's Northern Territories, completing her look with her trustee nude stilettos and a maple leaf tartan scarf. As we saw earlier in the day, Kate wore a £2,000 Dolce and Gabbana green dress featuring gold buttons underneath the thick coat, mixing high fashion with more affordable pieces – as she does best.
For the second part of the day, Kate – who is travelling with a hairstylist as part of the couple's 12-person entourage – changed up her look by wearing her hair in a half-up half-down style, while keeping her make-up simple and fresh.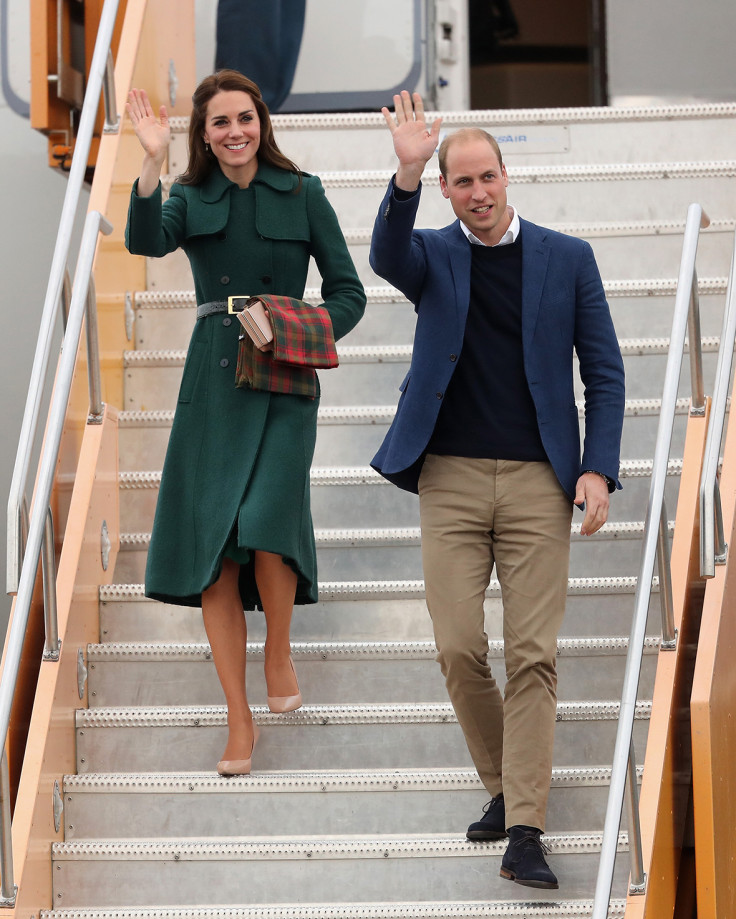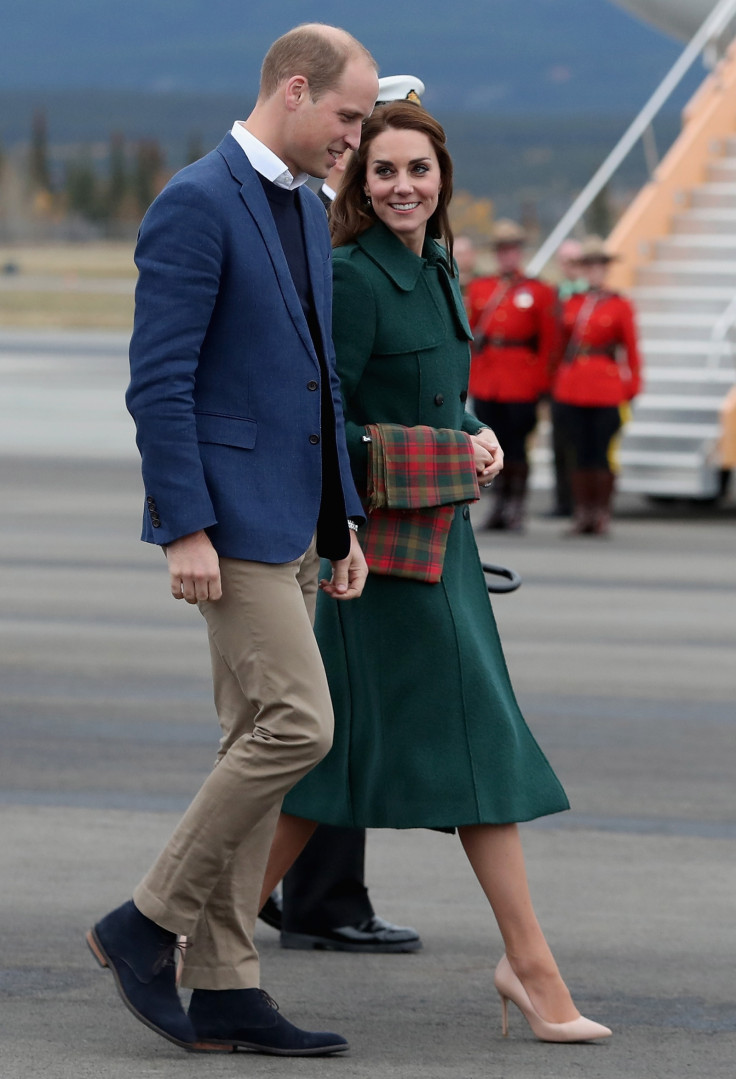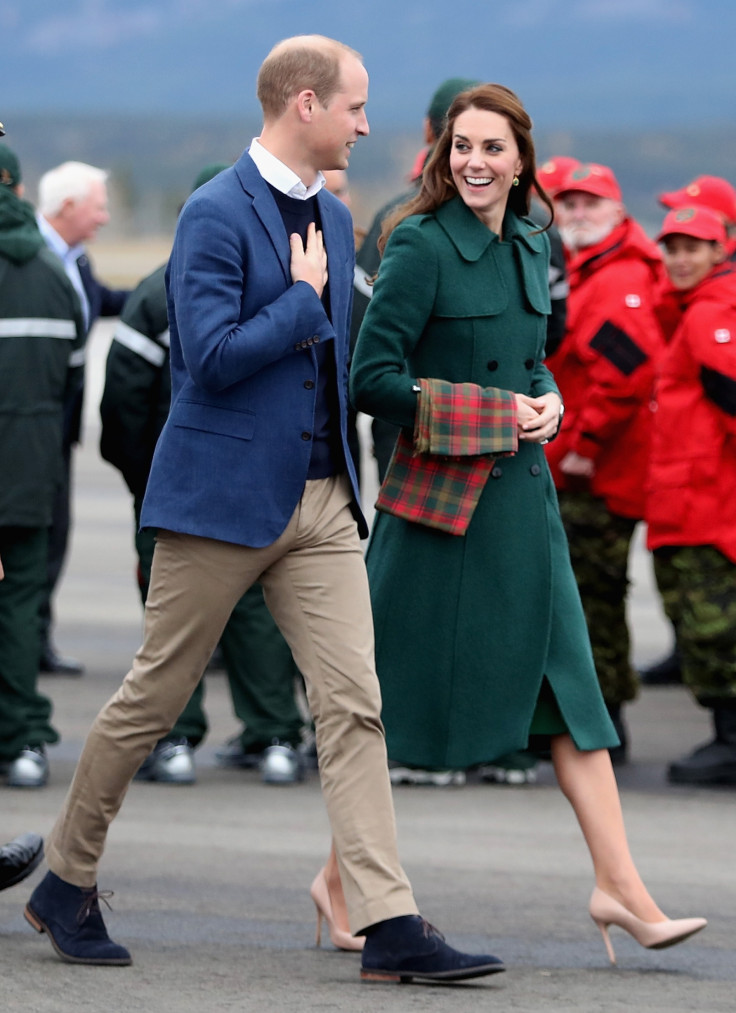 Prince William, also 34, felt a little braver than his wife and simply opted for a navy blazer which he wore with a white shirt and sweater and camel-hued chinos and desert boots. The royal couple touched down in Whitehorse, which is located in the Yukon territory where the Northern Lights can be viewed. The temperature was substantially lower than when they first arrived in Canada on Saturday in British Columbia, however, the Duke and Duchess were warned about the chilly climes beforehand.
Governor-General of Canada David Johnston and his wife Sharon greeted William and Kate at the airport along with a large number of dignitaries.
Johnston gave a short speech to welcome the royal couple. He said: "Welcome to northern Canada. This is a vast and important part of the country, that's home to a truly wonderful people. Something about this part of the country humbles and inspires us and forces us to discover new things."
Macey Hangartner (pictured in purple jacket) presented Kate with a bouquet of flowers on behalf of Special Olympics Yukon – an organisation which works to enrich the lives of Yukoners with an intellectual disability through sport.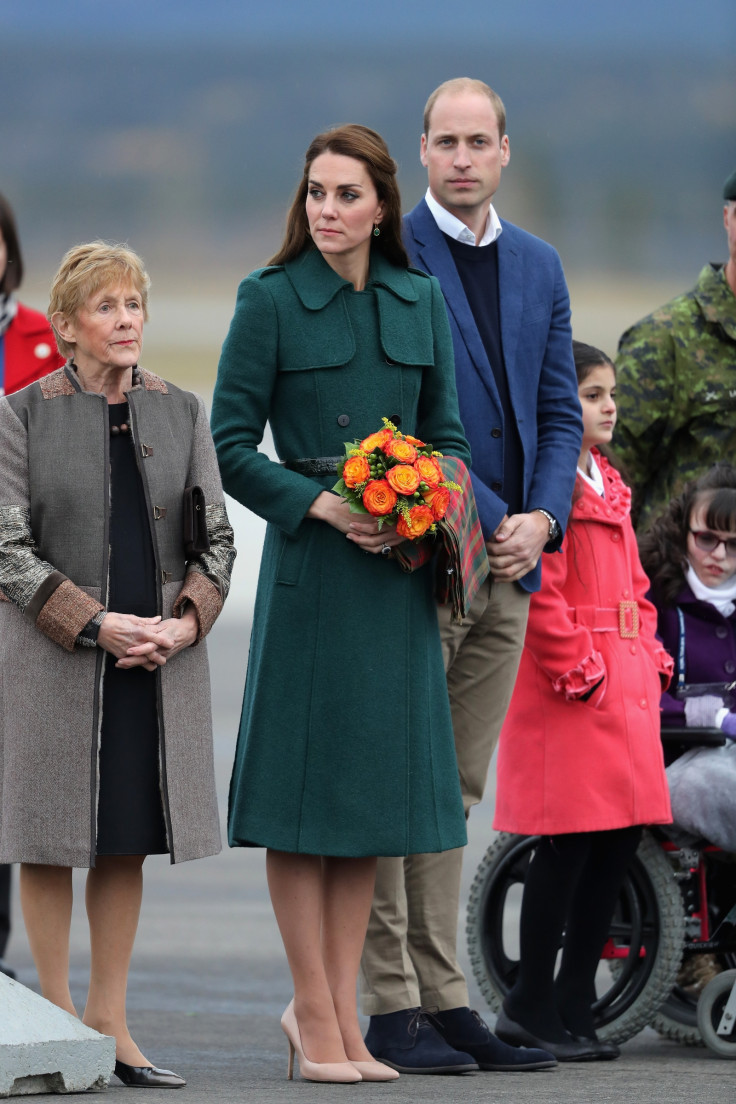 Kate received anther beautiful bunch of flowers – orange peonies – by Reem Aarafat who was representing Yukon Cares, a local group of volunteers working to bring refugees to the area.
William and Kate – who married in 2011 – were in high spirits despite the busy few days they have had and mingled with guests at the private event where they were treated to stories, music, dancing and singing. They looked happy and comfortable in each other's company and shared a few private jokes among themselves in between meeting dozens of new people.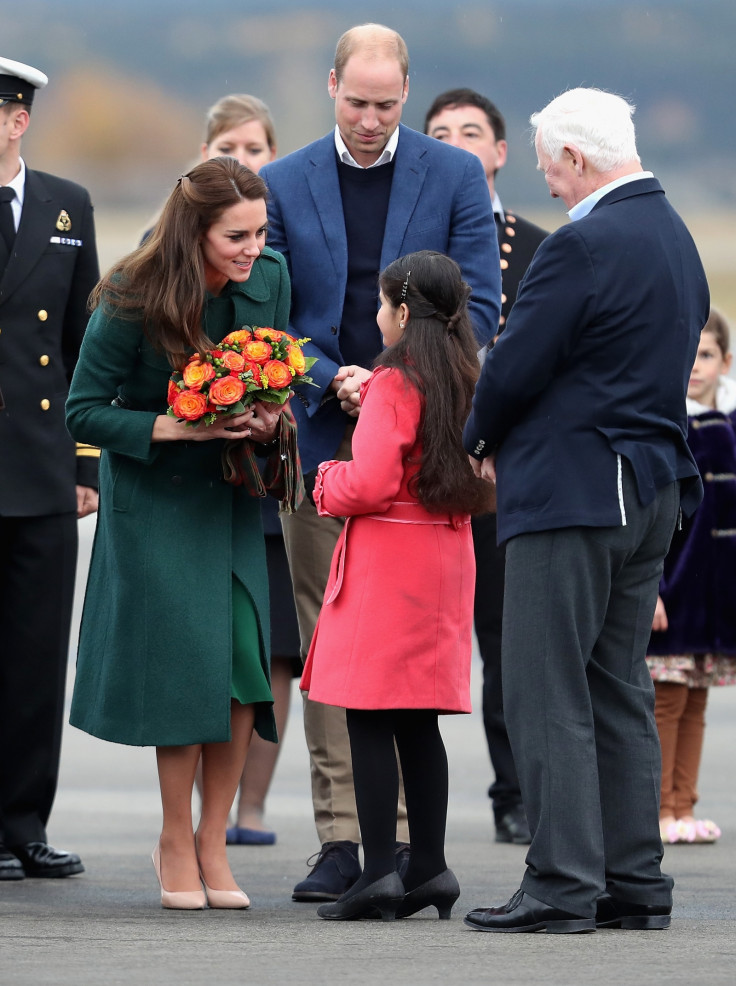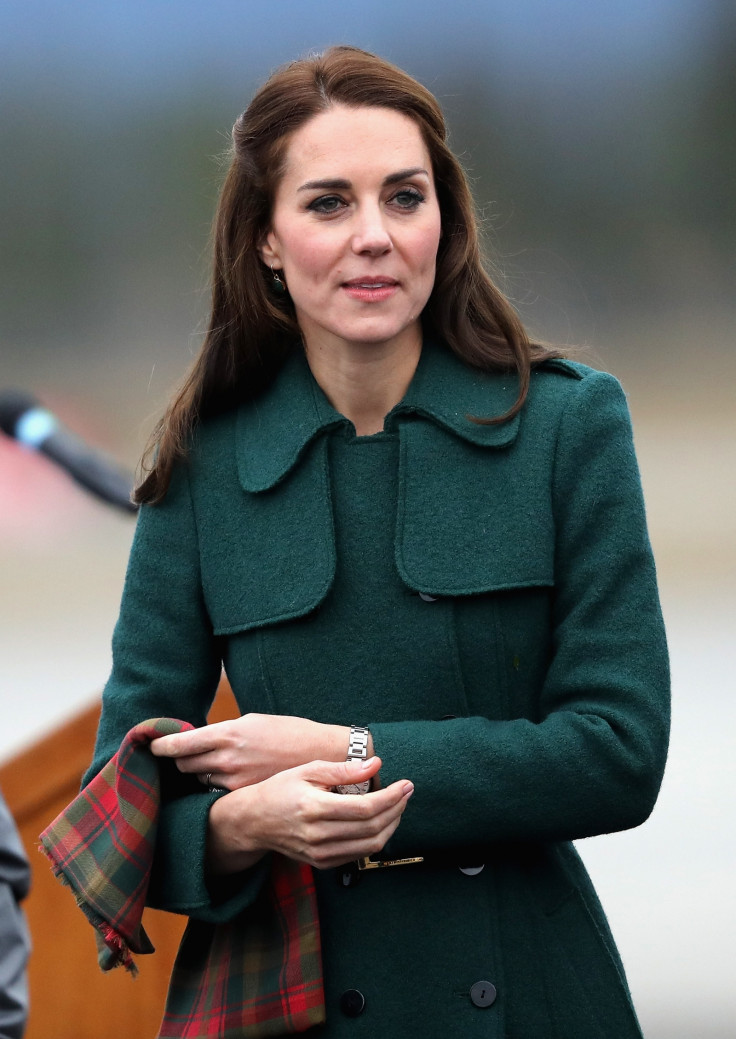 William is said to have boasted about his dancing skills on the visit, with 22-year-old street dancer Carly Fredrickson saying: "They were really impressed and they made jokes about how he's a really good dancer and he wanted to get up and dance with us. He said he has some moves and she [Kate] agreed. He said he did want to get up and dance while we were performing."
The Duke and Duchess of Cambridge kicked off the fourth day of their royal tour of Canada with a visit to the city of Kelowna. The royal couple met students at the University of British Columbia and attended the Taste of BC food festival at the Mission Hill Winery.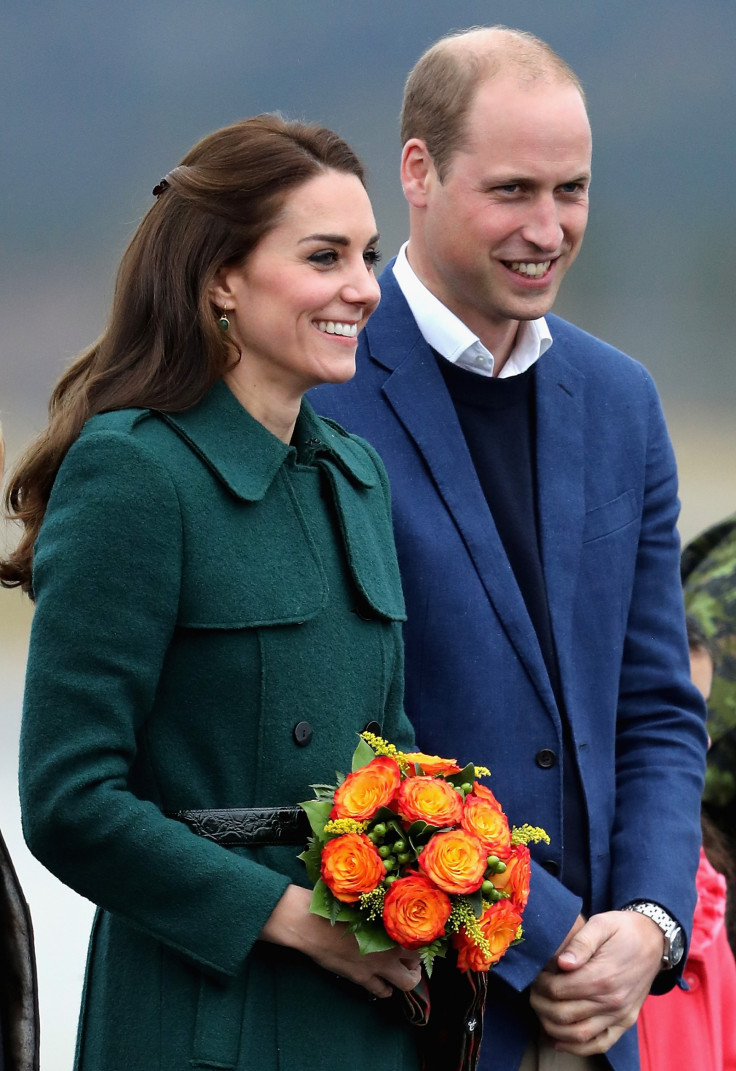 The royal pair meanwhile enjoyed a food and wine festival where the pair broke royal rules and ate in public – with Kate trying some geoduck clam – declaring it delicious. The geoduck is a giant saltwater clam with a long phallic-looking neck. "Presentationally they are quite challenging," William said.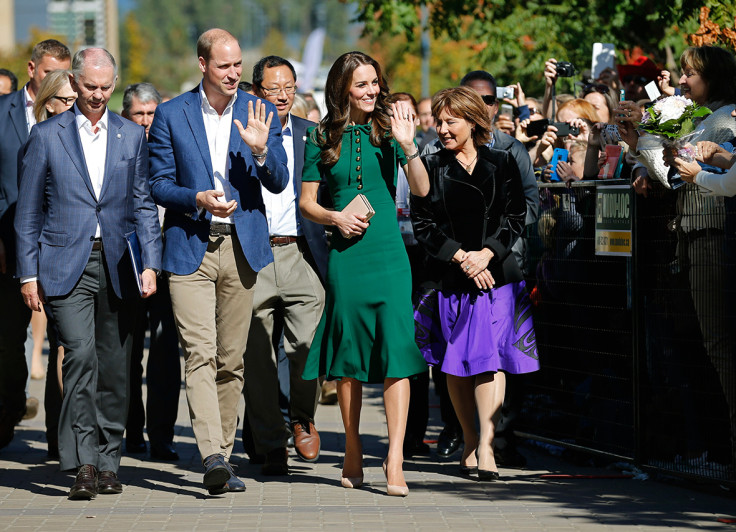 William and Kate were reportedly snubbed for the second time in two days by a prominent First Nations leader, who helms the various indigenous Canadians who are neither Inuit nor Métis. Grand Chief Stewart Phillip, Okanagan Nation Alliance Chairman and Spokesperson, was set to meet the pair at the Black Rod ceremony at Government House in Victoria, British Columbia but backed out. Used in Commonwealth countries around the world, with origins in British Parliament it is used in the legislature when the Queen or lieutenant-governor is present.
"With the deepening poverty of our communities, remembering the missing and murdered Indigenous Women and Girls and the ongoing negligence of Indigenous Child Welfare policies across this country, in good conscience, I cannot participate in the Black Rod Ceremony," Phillip said in a statement on 26 September.