It's not unusual for construction workers to throw a glance at an attractive woman who passes them, but this time the woman who was subject to the cheeky charm of a builder was none other than Kate Middleton. The Duchess of Cambridge was visiting the Nansledan housing development in Cornwall with Prince William, when a group of builders lay down tools to welcome the royal visitors.
Construction worker Sam Wayne from Redruth caught Kate's eye as he gave a big smile and gestured to her for photo. The Duchess couldn't contain her giggles and Sam managed to snap a selfie as the royal couple strolled past.
And it's not the first time the cheeky builder has had a brush with royalty. He revealed that in 2014, he had managed to get Prince Charles to pose for a photo with him.
Posting the picture on Facebook with the caption 'royal selfie pt 2' he said: "He's done it again. Prince William and Kate Middleton. Not as close as my Prince Charles but still a royal selfie."
The post was liked more than 100 times in an hour.
Speaking about his latest royal encounter he told Mail Online: "I'm a fan of the royals and love a good old selfie, so put the two together. It's about opportunism and being a bit brave at the same time."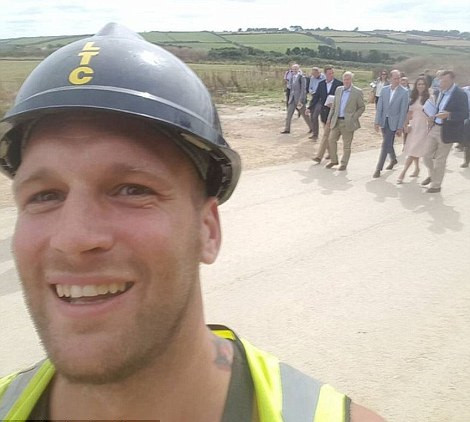 The royal couple was in Nansledan at the 218 hectare site of the new development which will provide future business and housing for the local area.
It was just one part of their tour of the Duchy of Cornwall today (1 September) which included a visit to the Truro Cathedral, meeting surfers on Newquay's idyllic Towan Beach and a visit to Healey's Cyder distillery where Kate pulled a pint - as well as a builder.