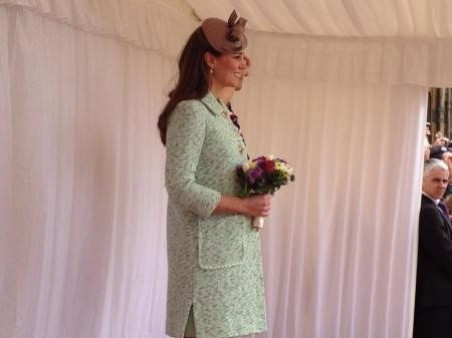 Catherine, the Duchess of Cambridge, has attended the Queen's Scout Award parade at Windsor Castle, before joining the Queen on her 87th birthday for a celebration tea.
Prior to the parade of scouts at 2pm on Sunday 21 April, Kate joined the senior scouts, who assembled in St George's Chapel at 11am for a Matins service.
The pregnant wife of Prince William met with young people from across Britain who have received the Queen's Scout Award. To earn this accolade, youngsters must complete a range of activities including camping, exploring and taking part in outdoor activities.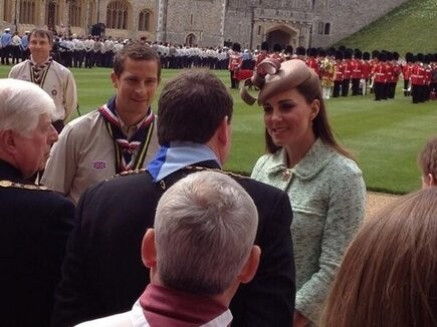 Earlier in the day, the daily Changing of the Guard at Windsor Castle took place, where the Band of the Irish Guards played Happy Birthday to the Queen, who was in residence to celebrate her private birthday.
The Scout Association is a long-standing favourite organisation of both Kate Middleton and the Queen. Elizabeth II is patron of the scouts and meets youngsters at Windsor Castle each year.
The Duchess of Cambridge volunteers at a scout group near the home she shares with Prince William on the Isle of Anglesey.
At 2pm promptly, Kate did a walkabout, escorted by Bear Grylls, who introduced the Duchess to the scouts and the VIPs.
The Duchess of Cambridge was wearing a Mulberry Frayed Coat in Mint Cotton Tweed, a Whiteley Cappuccino hat and her LK Bennett sledge heels.
Despite being six months' pregnant, Kate continues with her royal duties.
On Tuesday 23 April, the Duchess will visit The Willows Primary School in Wythenshawe, Manchester, where she will launch a new charity initiative focused on children who have parents dealing with substance abuse and addictions.
It's understood that Prince William will not attend any of these events as he continues in his role as a search and rescue helicopter pilot with the RAF in Wales.
The pregnant duchess has no plans to slow down during her pregnancy until she goes on maternity leave, some time in June.