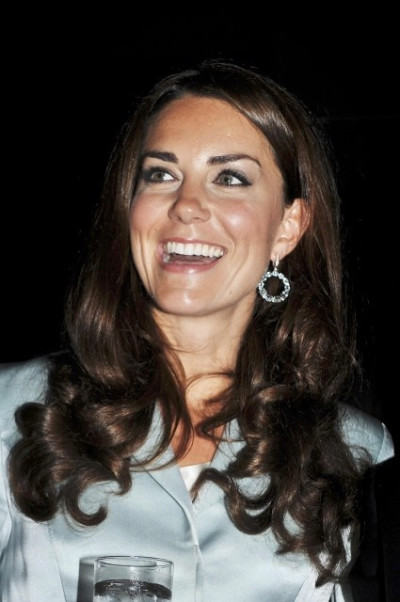 The Duchess of Cambridge Kate Middleton played her part in the spectacular opening ceremony of the 2012 London Olympic Games, supporting the event and the Olympic spirit in her own style. For her arrival at the Olympic Stadium, the Duchess of Cambridge wore a pair of earrings designed to resemble the Olympic rings.
Catherine, Duchess of Cambridge, was accompanied by her husband Prince William. The stylish royal (recently voted the British celebrity with the best beach body) wore a pale blue Christopher Kane coat dress. In keeping with her thrifty nature, the dress was the same she wore to a reception at Buckingham Palace, hosted by the Queen, earlier in the day. The reception was to welcome heads of state and governments to the United Kingdom.
Kate's diamond-studded Olympic-themed earring resembled a necklace she wore earlier, over a blue Stella McCartney crepe dress, to an Olympic-themed exhibition at the National Portrait Gallery, where she is a patron. The long gold necklace, bearing five diamond-studded Olympic hoops, was designed by renowned French jewellery house Cartier and was said to be from Kate's personal collection.
Opening Ceremony - 2012 London Olympics
The opening ceremony of the 2012 London Olympics will probably be best remembered for dramatic appearances by dignitaries and celebrities. A pre-recorded clip showed Queen Elizabeth II arriving "by parachute" with James Bond, played by Daniel Craig, while former Manchester United and Real Madrid midfielder David Beckham brought the Olympic Torch in a speedboat down the River Thames. A capacity crowd of 80,000 people at the Olympic Stadium cheered the event on. The Team Great Britain athletes were led out by three times gold medal-winning cyclist Sir Christopher Hoy.
Other highlights included performances by former Beatle Sir Paul McCartney and an appearance by JK Rowling, the author of the Harry Potter series of books.
Click Start to view a slideshow of photographs of Kate Middleton at the opening ceremony for the London 2012 Olympic Games...