The Duchess of Cambridge never ceases to amaze us. Her fashion sense is a force to be reckoned with, and she has a highly influential role in the British royal family.
And although Kate Middleton is a woman of significant importance and mother to the future king of England, she had a nickname growing up just like a lot of us.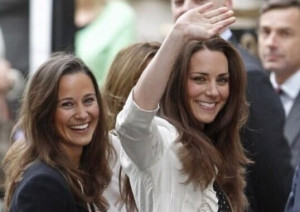 The 35-year-old royal – who wed Prince William in Westminster Abbey in May 2011 – has always been tight-lipped regarding details of her upbringing with siblings Pippa and James Middleton in Berkshire along with parents Carole and Michael.
We recently learned that the duchess prefers to be called Catherine at home, and only acquired the moniker 'Kate' during her university years at St Andrews, something that the press latched onto.
But royal fans can now gain a new glimpse into Kate's personal life as her first childhood nickname has surfaced.
The royal used to be known as "Squeak" during her school days at St Andrew's Prep School, in Pangbourne, Berkshire. Her younger sister Pippa, now 33, gained the nickname "Pip".
Speaking to pupils on a return to her old school, it emerged that the siblings were named after the school guinea pigs. The duchess said: "There was one called Pip and one called Squeak, so my sister was called Pip and I was Squeak."
The duchess grew up in Chapel Row, a village near Newbury, Berkshire, with her parents and siblings. She studied art history in Scotland at the University of St Andrews, where she first met William in 2011. The pair began dating in 2003 and have been married for six years. As one of the world's biggest style influences, her impact has been dubbed the "Kate Middleton effect" in the media.