The Duke and Duchess of Cambridge have embarked on a five-day tour of Poland and Germany with their two children Prince George and Princess Charlotte, and the royal couple are in for treat when it comes to the food they'll be eating.
Great Britain's Polish food ambassador and television chef Damian Wawrzyniak is set to serve up a Polish feast for Kate and William today (18 July) after being formally invited to cook for the British royals.
Chef Wawrzyniak – who has just opened his first restaurant in Eye Green, Peterborough – joins the duke and duchess in the Polish capital of Warsaw today and together with his chefs from House of Feasts, Dominik Pietrzyk and Lukasz Ciechelski, will conjure up a royal packed lunch based on traditional Polish recipes.
Despite the food having a Polish theme, it will be cooked using British ingredients including vegetables from Cambridgeshire.
The menu will include:
Traditional Polish smalec with sourdough bread and pickles.
Polish pierogi stuffed with slow cooked British Dingley Dell pork.
Brined tartare of Baltic Sea wild herring with Fenland shallots.
Puff cake (Ptys) filled with whipped cream and finished with Cambridgeshire summer fruits.
'Smalec' is the Polish word for lard made from pig fat, while 'pierogi', also known as varenyky, are filled dumplings of Central and Eastern European origin.
The Polish lunch will be served to Kate and William today, which is the second day of their first official joint visit to Poland and Germany, undertaken at the request of The Foreign and Commonwealh Office. The trip is thought to strengthen ties between Britain and Europe before Brexit gets underway.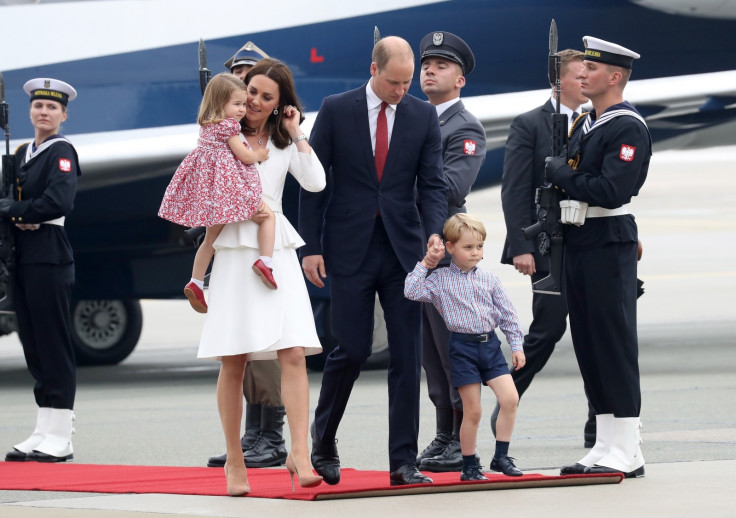 Chef Wawrzyniak, whose food will be served to the royals in Gdansk's Shakespeare Theatre, said: "I am over the moon to have received an invitation to meet the Duke and Duchess of Cambridge and speak with them about Polish-British cooperation during their first official joint visit.
"It's an honour to be able to serve them my food and to introduce them to some of my favourite traditional Polish recipes," he added.
Before lunch, Kate and William walked through the infamous 'death gates' of a Nazi concentration camp upon their visit to the former Stutthof camp in northern Poland where 65,000 people died during Germany's occupation in World War II.
Their visit will also entail meeting young people such as entrepreneurs, mental health campaigners and bright young talents.