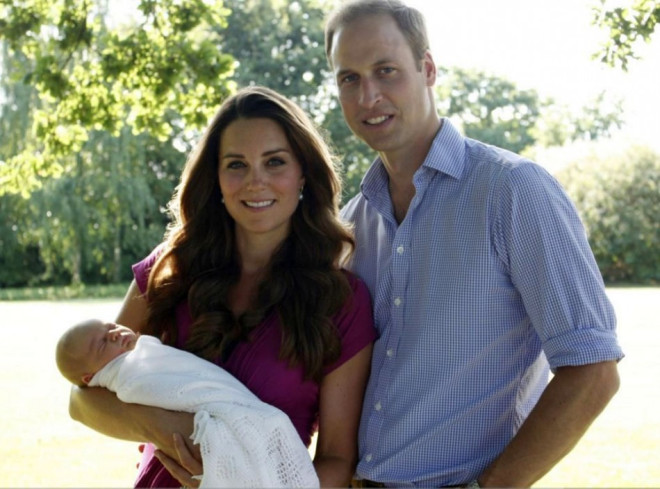 Clarence House has released the dates and detailed itinerary of Prince William and Kate Middleton's upcoming trip to Australia and New Zealand.
The Duke and Duchess have been invited to visit by the New Zealand and Australian governments in April. The royal couple will also take their baby son, Prince George, along.
The itinerary states the young royal family will first visit New Zealand, arriving there on 7 April. They will begin the second leg of their three-week tour to Australia on 16 April. The royal tour concludes on Friday, 25 April.
The trip will be Kate's first visit to both the countries while William has been there several times. However since becoming mom and dad to royal baby George in July, William and Kate will make their first official overseas visit.
"The Tour will provide the opportunity for The Duke and Duchess to visit a number of towns and cities across both countries. Specific events will celebrate Australia's and New Zealand's success in the fields of technology, tourism, sports and the creative arts," Clarence House said in a statement.
"In what is the one-hundredth anniversary of the start of the First World War, The tour will also include several opportunities to recognise the sacrifice of members of the Australian and New Zealand armed forces."
William and Kate will attend a ceremony in Blenheim, New Zealand, and the ANZAC Commemorative Service in Canberra, Australia.
To commemorate the royal tour, New Zealand Post will release two stamps and a silver coin featuring William, Kate and George.
Here is the full detail of Prince William and Kate Middleton's itinerary.
In New Zealand, The Duke and Duchess will visit:
Wellington (7, 9 and 16 April; will be their base)
Blenheim (10 April)
Auckland (11 April)
Hamilton and Cambridge (12 April)
Dunedin and Queenstown (13 April)
Christchurch (14 April) - Their Royal Highnesses will witness the city's reconstruction programme and view its plans for the future following the February 2011 earthquake.
The royal couple will retire privately for a day in New Zealand before arriving in Australia.
In Australia, they will visit:
Sydney, NSW (16, 18 and 20 April)
Blue Mountains, NSW (17April) – The Duke and Duchess will visit the area that was badly hit by bushfires in October 2013
Brisbane, QLD (19 April)
Uluru (Ayer's Rock), NT (22 April)
Adelaide, SA (23 April)
Canberra, ACT (24 and 25 April)